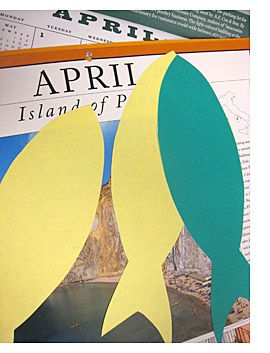 ITALY– What do you know? April did finally arrive. That is the month that our plane tickets have printed on them. Oh joy. We are so done with waist deep Maine snow and we are so very ready to Alitalia our way back to sunny places with soft vowel endings like Italia, Umbria, Toscana. Non vedo l'ora. And plus we have two count them two Italian weddings to look forward to. Watch this space for in depth reports from your continental wedding reporter. But lets talk about April first. April Fools Day. Italians, in my experience aren't so much about straight-faced telling gotcha lies as they are about putting a fish on your back. And laughing behind it. OK, I'll bite. Why would they do that? Here's all I can figure: you know that slapstick kind of juvenile routine where you curl your pinkie finger and use it to pull out a corner of your lip? Like when someone has been a real sucker, a chump. Oh, you don't do that? Well, anyway, I think it is THAT kind of fish. A Pesce di Aprile kind of fish.
Honestly, I've never seen this done in Italy but twice we've had students from different parts of Italy living with us on April first and they swear its funny to stick a cut out paper fish on someone's back on April first. They say they do the same in France as well. And that makes it right, because any country that thinks Jerry Lewis is a comedy god . . .
Anyway, remember if you are getting lots of attaboys and pats on the back on an April first, you may want to take glance at your reflection to see if one of your wild and crazy friends has stuck a fish on you.
Happy April Fishes Day, Happy Spring!
See you in Italy,
Stew Vreeland