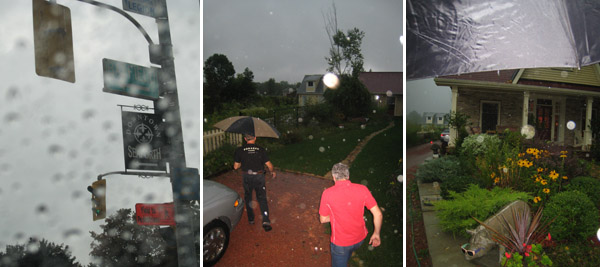 BAYFIELD, Ontario, Canada–Fine weather turned to foul weather and that turned to famously abusive Ike. Just as we were pulling into our Bayfield Ontario on the shores of Lake Huron so was the tail of the hurricane and everything went black. And wet. And wild. They had seven miles of road closed on one side of town. Lakes in people's yards and standing in the fields of ready to harvest crops. Crazy. We stayed inside and talked cars and apes with Ken Johnson and his wife Delores and went our to eat in the hurricane. I went out barefoot to avoid being soaked and put on my shoes just before getting out of the car and going into the restaurant.
We got up this morning and loaded the Ape on the back of the Tahoe.
And there it is! And now we've got an ape following us wherever we go. Looming large in our rear view mirror like some crazed tailgater out of a Steven King novel bent on leaping right over us. So, there's that. And now we have to do fret about busting thru customs with a 25 year old three wheeled Italian motorcycle. We idled in line for awhile and then explained it slow and carefully to the border crossing lady and her uniformed associates as more uniformed people ran by pointing at it going "what the heck is that?" Finally "pull over there" became the answer we expected. But when we got it inside a real matter-of-fact crew cut guy said "who's importing the scooter?" I raised my hand. And asked if I could go to the bathroom. We'd been driving forever. The guy sighed and waved me to the elevators. Just like I'd planned, by the time I got back down, a responsible adult, Paul as it turns out, had pretty well settled everything and they were stamping my papers with what they no kidding called "the full BS stamp of approval" and we were solid gone before they changed their minds. No tax, no charge just "have a nice day."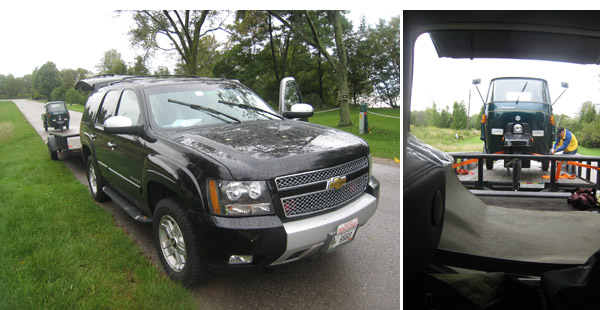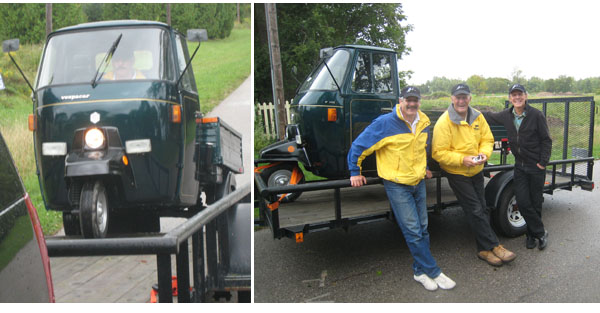 LAND OF THE FREE AND HOME OF THE APE
Finally. We're back in the US, back in the US and we seem to have a newly naturalized ItaloCanadian with us. Can't wait to get this little green bit of Italy settled into life on the farm in Gray, Maine. We'd be well on our way but now we're sorting out Paul's Lancia in the morning. And starting our caravan of Italian cars across America to Maine.
Non vedo l'ora amici, non vedo l'ora. And I can't wait. Getting closer to home every minute. Stay tuned.
See you in Ape, (I'll be the one waving like mad and grinning my face off)
Stew Vreeland