TRIESTE, Italy – First thing to remember is that this city is way over to Italy's right hand side. Far as you can go. And then keep going. Through a complicated political history, Trieste use to be Austrian and is totally surrounded by Slovenia. Not Slovakia. Slo. Venia. Hit Venice and keep going north for a minute and then bend around and start going to the South. The part of Italy called Istria. A few miles out of Trieste you can be in Slovenia and Croatia.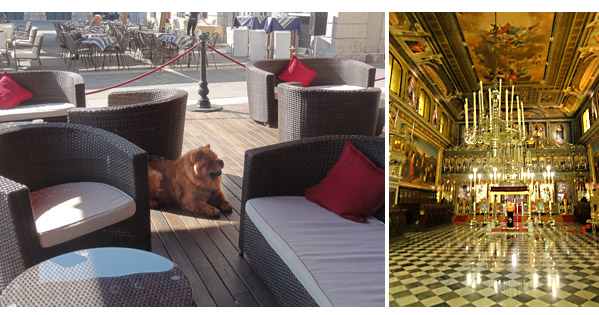 We got off the main road at Sistiana and headed south along the shore road to Miramar Castle. Long a dream destination of ours. As soon as you get off, hold onto the wheel, the views will knock you out. There are pull overs every few feet and rightly so. Adriatic here is just stupendous. And Miramar is a fairly tale castle hanging over the Adriatic. It was a worthy goal. And easy, easy to get to. Could not recommend it more.
Same with Trieste. After seeing the castle, drove the couple of miles to the city. Sunbathers sunning on the rocks the entire way. Its not a beach, but water and sun par excellance. Drove our rental car right into the center of town like we'd been doing it all our lives. Just keep the sea on your right. Oh, look, there's the hotel, Grand Duchi d'Aostia. Parked the car in their half hour zone, told the lady at the desk to have someone make it go away and they did. She said we can have it back anytime you want. But we didn't want to see it till we were going to leave. And after seeing the hotel and the town for a few minutes, we knew we didn't want to leave at all!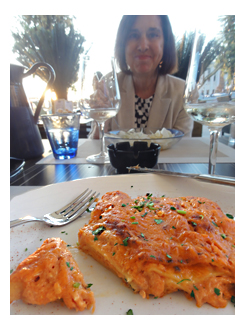 The Piazza Unita' d'Italia is grand and perfect in everyway, every time of day. Huge and right on the water. Very dramatic. Roman ruins? Checked them off a block from the hotel. Gelati and coffee? How much can you take? Seafood? Holy cats. Have you ever had swordfish lasagna? I thought I was going to levitate right out of my chair and ascend into the multicolored sunset straight into heaven.
People are nice, everything downtown is comfortable and clean, clean, clean, every building sparkling and no scaffold and nets, just maintained to death.
Love their dogs here, maintain them too. I saw exotic kinds of dogs I've rarely ever seen, borzi, and poodles and I can so remember one massive mastiff literally prancing by, his gorgeous, loose-fitting, steel-colored skin draped like a scarf around his neck and bouncing along in rhythm with him. Painting of three black labs over our bed in our room. We rode in the elevator with a spectacular cinnamon colored chow and his British owner and saw them every morning taking the sunshine and breakfast outside the hotel.
And the Smart car we saw on the street looking smart in triple black right inside and out, right down to its wheels. For pet funeral accessories. Really. Do they have services at churches? I'm sure they would if they could.
And because this is Italy, you think "surely they are Catholic?" Not so much. Yes, they have that flavor of religion and San Giusto on top of the city attests to that in a big way. But. Half the churches we saw, upon close inspection turn out to be Greek Orthodox. Che sorpressa. Ever wonder what one looks like in person? We peeked in the one between our hotel and the Grand Canal. And rocked right back on our heels. Looked at each other in amazement. And we've been in some churches. Nothing ever like this. Were they expecting us? Or the Greek Pope or what? Middle of the day, huge candelabras all lit, windows and floors polished to a fine shimmer. Was the whole thing an apparition? No need for any signs saying to keep our voices down. We were speechless.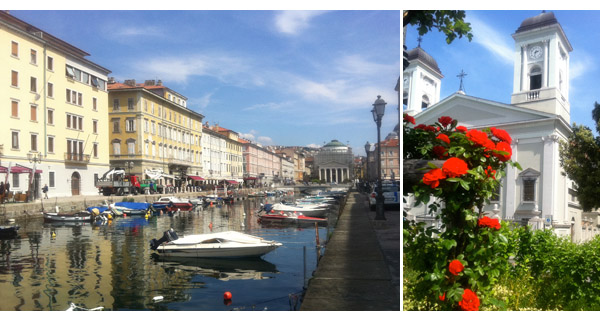 This has to be a new highlight. Constant source of amazement here. Even for an Italy we've known for years. Always something new around every corner. It is seven hours by car from Panicale, but easy Autostrada hours. And on a Cielo Terso blue sky day? Va le la pena! Two delightful hours east and south of Venice. And you know you can't just wheel in to the middle of that one and park by your hotel.
More Trieste photos in our instagram gallery
See you in Italy
Stew Vreeland