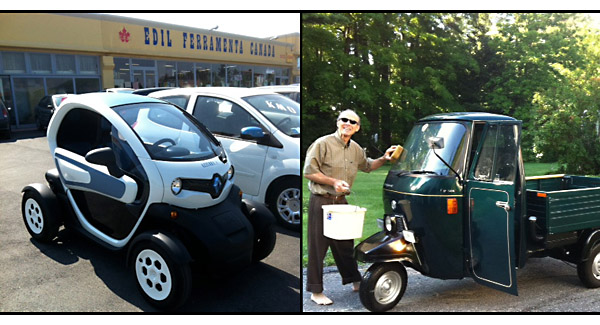 CASTIGLIONE DEL LAGO, Umbria, Italy–Can you really compare these two Lilliputt-putts? Well, no. On the one hand, yes, they can both haul you and your best friend to and from the market, albeit in close quarters. But in an Piaggio Ape, you can bring both your friend AND the groceries home from the CO-OP. With the Renault Twizy, it looks like you have to pick and chose between bringing the friend or the groceries home. So, how hungry are you? The price the dealer told me made me instantly realize I wasn't going to be able to take it out of petty cash. But I think I remember the deluxe model was like 8,000 euros.
In its defense, the Twizy is full-on electric. But, it is licensed as a four-wheeled motorcycle, with a steering wheel. Five wheels is a lot of wheels. For a bike. Meanwhile our 1983 Piaggio Ape, with only three total wheels (not even a single steering wheel) has an 1,100 lb payload. Plus, room for you and your momma. We bought our ape from Ken Johnson in Ontario. He is the only dealer/renovator we know of. If you go to his site you can see a few of the Apes he has put on the streets recently.
So, what'll it be, big spender? A shiny new Twizy or an proven-in-the-trenches Ape? They are both cunning European designs. The Twizy is way out of the box, way ahead of the curve, the Ape has been an established mode of transportation around the globe for decades. I don't know if you can even get a Twizy in the states. When I saw one on a Renault lot last month in Castiglione del Lago (Umbria) I kept thinking I was seeing a prototype, a futuristic, car-of-tomorrow sketch, magically come to life.
They both are taking wildly different, outside-the-box approaches to space, travel and energy use. Noble efforts.
Plus, come on. Are they are wicked cute?
See you in Italy,
Stew Vreeland