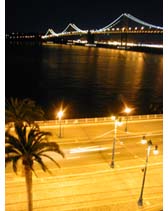 Ok, hawk-eyed viewers have accurately pointed out that your intrepid reporter was sooo wrong on his former Golden Gate pictures. Looked good to me. But what do I know. I am (was) such an Out Of Towner. OK, NOW we know that the first fantasy bridge outside our lovely (and wired!) Harbor Court Hotel room's window is the "BAY Bridge". They have more than the one? Cool. The Golden Gate Bridge is. . . how shall we put this? More Golden. As you can see from this unretouched view of the actual Golden Gate Bridge below right. I was sorely tempted to do a bit of revisionist history and simply change out the wrong photo for the right. Didn't want to burn my credibility bridges. But really, there is a golden glow to our Bay Bridge, here on the left, no?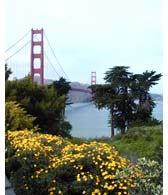 We took our floral based shots from a park just before you go over the Golden Gate Bridge. Our fun friend and native San Franciscan, Paulette (she's also our neighbor in Panicale in Umbria) took us there. And she said she had never in her California life ever been in this park. As you drive up to this park by the toll booths, it looks a bit generic, in a WPA Park Service sort of way with its concrete gift shop etc, but it is a super garden and a great place to check out the bridgework.
And yes, we had to take this picture to show that Midge does "get" Cable. If you are going . . . to San Fran-cisco, you could not go without trying the Cable Cars could you? Who would ever want to have a car here on vacation? Way, way too easy to get around without one. And you say you have a real need for a car, like to go up to Wine Country? Have Lightning Limo carry you around. They cheerfully took us to the airport way before the crack of dawn. I have never seen a towncar polished in and out like this one we had. About the price of the cabs which, by the way, were not all that impressed with our departure time!