ROME, Italy— Were they in the right place at the right time or what? New pope's first public mass and Sean and Dayna were right there. Sean says his first clue was all the guys in red dresses on the balconies of St Pete's. The next thing they knew, here came the new popemobile and bob's your uncle there was Benedictine numero 16 — an arm's length away. Actually we call him Benedict 16 and Italians say Benedetto 16. Regardless of how you say it Sean, ever the consumate professional, was right there with a camera in hand, taking full advantage of the lucky turn of events. That was Sean and Dayna and Harry watching the sun go down in our garden, it was at the top of a blog page a couple days ago (and now on our home page ) at our annual foreign correspondent's picnic. And now here's a note from See You In Italy's Chief Vatican Correspondent and continental man about town: Sean Riley.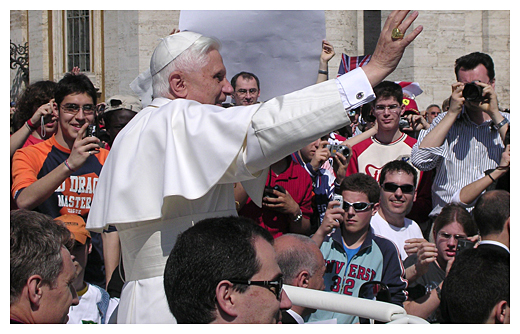 Stew, attached are my pictures of the Pope. It was way cool. We took over 200 pictures on our wonderful trip. You will be happy (or Sad) to know that Dayna started pouting after leaving your little town. Yikes! I had told Sean that, like him, we discovered Panicale on a 25th anniversary trip and my wife had pouted until we bought a house there. 'spensive trip. But, Yes Dear, worth every penny.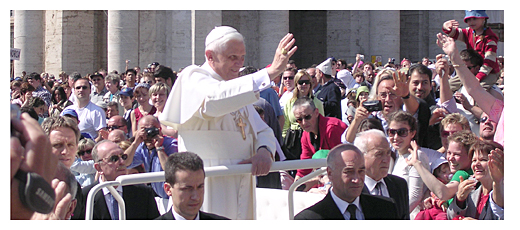 You would be so proud of me. Being the non-creative guy in the family and company. I took tons of pictures of little alley ways with hanging flowers and little old lady's walking through. I thought about doing posters and calling them "Alleys of Italy"
Sean & Dayna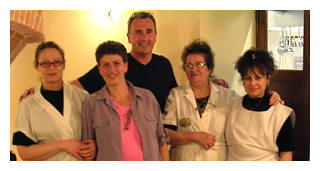 We had such a wonderful time. I still think the dining highlight of the trip was with Andrea (Masolino's Restaurant, Panicale), especially the second time we went. The food was so delicious. But I asked if I could say hi to Mama Bruna. The whole family came out and we took pictures. I know this might sound silly, but that was one of the experiences I was looking for. It was a definite highlight!
Thanks so much for your hospitality. It made it so much more meaningful.
We also loved our stay at. the Villa Lemura We loved the place and the people!
Thanks again Stew!