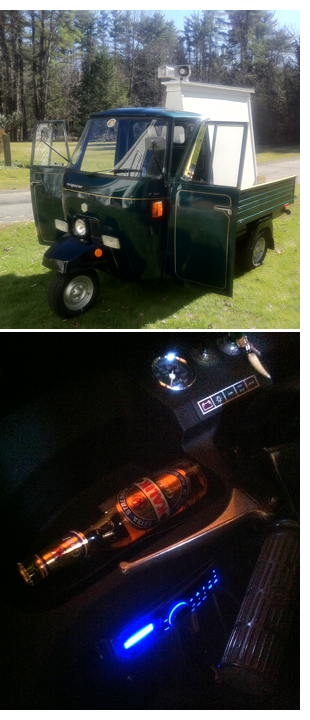 We had to spring the "Bad Monkey" from his winter hiding place a bit early this year. It wasn't for good behavior. But this little green monkey really was going green. He's being featured at a Sustainable Vehicles Design Seminar at SMCC in South Portland, Monday night. We've been really scrambling to get him ready for his first day of school, license plates, registration, insurance, the funny gas/oil brew we have to mix up for it. And a quick bath in the front yard.
And all that early season activity has had some great side benefits. We've been storming up and down the road out front, dropping in on neighbors, loud speakers blaring "Volare" or whatever other Italian Classics the iPhone-based sound system has cued up. You can see the glow of this way non-original piece of equipment in the photo. OH, that other glow? That would be one of the Kalik beers our neighbor Denny brought us back from the Bahamas. That was our prize for dropping in on him!
Got to love Italian Design. The two bottles laid down perfectly in the dashboard. One on each side. Cup holders? No. That ground breaking automotive moment had not yet happened back in 1983. And, much as we want one, I have to admit it takes at least two hands on the tiller/accelerator/clutch mechanism to keep this ride shiny side up and between the ditches. Drinking and driving? I don't think so. We've got class tomorrow.
See you in school,
Stew Vreeland