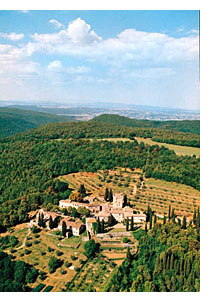 SIENA, TUSCANY—How do I love Siena, I couldn't possibly count the ways. So when Erin, our friend at Spannocchia, just outside Siena, invited me to come stay the night I was beyond excited. Erin is the director of the foundation there. She is also our neighbor in Italy and in Maine!
At an hour and half away from Panicale, Spannocchia , is just far enough away to feel like a mini vacation and just barely far enough away that you can rationalise spending the night. The drive there is easy and really it wouldn't matter if it wasn't. We'd go anyway!
This grand AgriCultural estate sits atop over 11,000 acres and includes a castle, a major villa, a chapel and lots of interesting and original farmhouses, a classic Medieval Tuscan hilltop community, in short. We have definitely written about Spannocchia before. Here is a Siena/Spannocchia blog from this time last year. But it is just so amazing I want a whack at it, too . . .
Note from Stew:
the photo above can be clicked on to see it in enlarged form.
When I was 13, my family went to Italy for two months. As I said, I was 13, it was the end of eighth grade — I would be missing eighth grade graduation!! Now I was not completely upset about the missing school situation, but foreign countries are scary and/ or boring when you have no idea what you're doing, where you're going or what you're looking at and what people are saying.
But something special happened in Sienna and at Spannocchia. It was all just so pretty, so calm and dream like in its simplicity and elegance, with such amazing history and a great sense of fun. In Sienna it was the Duomo's Piccolo Uomini Library that captured my heart, at Spannocchia? Pizza Night!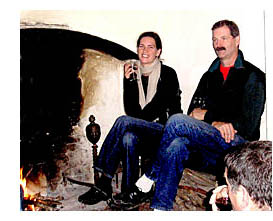 Now, nearly 10 years later, I had never been to Spannocchia for any other night except for Pizza Night. So when Erin emailed and asked if I would come on a Monday (pizza nights are Wednesdays) of course I said YES!
Between Italian class, webpages and phone calls that followed me literally up to the gates of Spannocchia I was definitely ready for some of Spannocchia's white wine to empty my mind on the terrace before moving on to the official pre-dinner drinks, -Red, this time- in front of the fire.
Then dinner. It started out with Ribolita, a Tuscan, twice-boiled, vegetable and bread soup that seems to warm your insides as soon as you look at it. Of course totally enough for a meal on its own, but true to Italian form, we were literally just getting warmed up. It was followed by their own thin, succulent, pork filets, little cakes with pine nuts, limoncello and huge amounts of laughter.
After dinner we gathered back in front of the fire to see all the pictures from Spannocchia's last batch of visitors, this is an annual group that includes Erin's parents Gail and Peter, that goes to Spannocchia in order to continues the rescue and restoration work on "The English Garden". This year a highlight was a woman from Maine helping everyone make animal statues out of pine needles and branches including a set of wild boars.


Then it was time for bed, but I'm sorry, I just can't sleep. Why? Because it has started to rain, and when I say rain I mean it is pouring buckets out there. Y'know how you count between the thunder and lightning to see how far away the storm is? Well, that storm was right over us, directly over us, and it just would not budge. The windows were rattling, the shudders were shaking, it was loud and it lasted all night. But it felt kind of nice to be in this big all- weather, weathering castle and snuggling under the duvet listening to the rain as I eventually drifted off to sleep.
After breakfast the next morning of yogurt and muesli, hard boiled eggs and coffee lots of coffee, I swam down the road and back to Panicale, canceling house viewings along the way, and wishing I had another week, another lifetime to stay at Spannocchia.