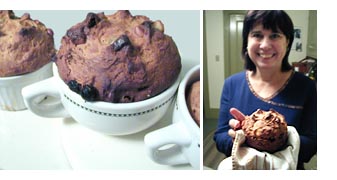 MIDGE'S HOLIDAY PANETONE RISES TO THE OCCASION!
NEW ENGLAND— Christmas Eve Dinner was an eclectic success. Classic American Fare? Classic Italian Fare? Some of both. With a large dollop of Southern Food thrown in for grins. We opened with Proseccos, and followed up with eggplant Parmesan and then moved to the piece de resistance, the mail-order, deep-fried turkey. Tacchino Fritto? Chi lo sai. It was all aces, but we had to feel Wicked Proud of the Panetone. Who knew you could actually make that at home? Could. And did. To be on theme, (and because we did not have many of the prescribed ramekins) we baked the cakes in oversized cappuccino cups. Worked like a charm. And the homemade Panettone was much moister and fresher tasting than the store-bought ones we have had in the past. Another benefit was that our whole house was redolent with the perfume of the little Panettones for the whole evening.
The next morning, Christmas Day, we had those Panetones, again. This time, for a late brunch: Omelet's to order, Panettone with blackberry jam, and of course Cheesy Grits. True Multi-cultural Christmas Joy!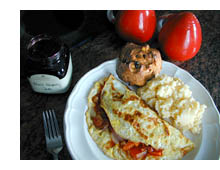 Speaking of things Italian and American Brunch: One of our life goals is to do our version of Brunch for our Italians friends sometime soon. The concept of eating Non Italian food will probably initially scare them half to death I'm sure, ma va le la pena (worth the pain). When pressed, most Italians will admit that they have heard Americans skip plates and eat straight out of cans that we buy in the SuperMart. And that we have only recently tumbled to the idea of using a fork to extract the food from the can. Well! Don't they know we have moved up to Microwave Food? No matter. I have a secret weapon in mind to help win them over to our evil ways. As conservative and xenophobic in taste as Italians are about food, I have a way to help take away some of the fear: Maple syrup. Strange, but true. We have used it as a regional Maine Pride present to many of our Italian friends and so far, over the years, the reaction has been universal: cosmic, undying, How Have I Lived My Life Without This? So, my plan is that if I lead with Maine Maple Syrup and pancakes on the menu, I may be able to segue into Cheese Grits when our friends' guard is down.
In the meantime, Happy San Stefano's Day You do know that today, the day after Christmas, is a holiday of sorts in Italy? San Stefano's Day is like Boxing Day in the British Empire. But rather than being all about presents etc. in Umbria it is all about Tombola! It is like Bingo. But it has more personality. Every number has a nickname and story to go with it. The Tombola games themselves are fun trip souvenirs, not to mention that they are a good way to motivate yourself to learn Italian numbers and counting. And it is a pressure-packed learning device, as you have to be quick with yelling those numbers out and getting them right. Playing in a town-wide Tombola is exciting. If you find yourself in Italy over the holidays, ask around and chances are good there will be a game and it will surely be open to the public. Well, that is what we did one year. And I won a Hair Dryer. Now, if I only had enough hair to need said hair dryer. Sigh. Oh, well, the girls in the family were impressed. And isn't that what Christmas is supposed to be all about?
Allora, Buona Stagione a Tutti!