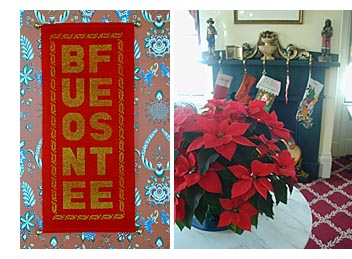 WINTERWONDERLAND, MAINE— Where am I? Really. Good question. Where haven't we been this month? Everywhere but putting up blog stories, it appears. Gathering Material. Yes. That's it. You know, just like Hemmingway fighting the matador's bulls or wrestling mutant Marlins into his fishing boat. Or not. But in the last thirty days time we have spent some long, fun weekends in NYC, London and Limestone, Maine. More on the London to Limestone sagas coming up. And Wiley has a big blog backlog direct from Italy that she is polishing up in Harold Wood outside London right now. But for today, we are grateful to have most of our family sitting right here at the dining room table. Zak, of NYC, bent over a growing chart, pen in hand, doing NYC Dutch ancestory genealogy, Midge in her "OLIO" cooking apron talking to the missing Wiley in London, and baby Grayson holding a bag of frozen peas on her jaw where her wisdom teeth came out yesterday. Poverina, figlia minora. She's in good spirits and ready for whatever the holiday and Babbo Natale is about to bring her.
So, why is Midge in her apron? What's cooking, Midge? Panetone? Yes, indeed. We're braving up to try making the tradional Italian Holiday treat. Is it cake is it bread, I really do not know. But when in Italy it seems they are everywhere. Except on forks. Do they actually eat them? Not so much, is my observation. Sometimes I think they are more atmosphere than cuisine. Occasionally they are put out of their decorative boxes and nibbled with Prosecco. Anyway, we are growing our own, sans decorative box. It sounds like a proper family fun holiday activity. You stir this. I'll chop that. You find the yeast. And it goes on all day if I read correctly the instructions in "Italian Cooking" magazine. Dec 05 to Jan 06 Holiday Issue. That recipe rocks. Available in newstands as they say. The recipe on their website sounded like a very complicated train wreck and we would have never even attempted that one, sissies that we are. More news on our Italian pastry dessert cooking experiment as it becomes available.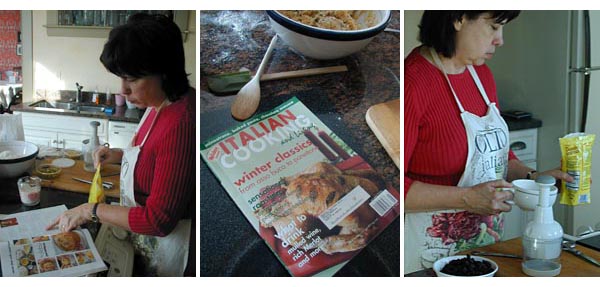 FLYING TURKEYS
We will probably be the only people in Maine having homemade Panetone with Cajun Turkey. Totally random culinary combination. Never look a gift turkey in the mouth. Oh, wait, ready to eat, fresh from the store turkeys don't have a mouth. But we do and it will be great. Midge's Nashville brother Kix had this fried turkey flown up to Maine and she found it waiting on our doorstep when she went on her humanitarian cappuccino run: LOOK WHAT I FOUND! Hey, hey, you HAVE had "southern deep fried turkey" , haven't you? Please, please say yes. Or quick, put it on your life goals list.
As the fried turkey indicates, we may not be in Italy for the holidays but with emails coming in from our Italian Home Away From Home we are feeling the love and day dreaming about different times we have been in Umbria for Christmas and New Years. Good times all.
Well, as our red and gold Italian Holiday Banner here at the top of the page says BF, UE, OS, NT, EE (Buone Feste) to all!