PANICALE, Umbria – A hour in the garden, a walk in the clouds. Work, work, work. Garden, garden, garden. A phone rings. Oh no, Paulette can't come. While I am talking to her on the phone, I see Steve and family in person waving down at me from above the garden wall. Goodbye Paulette, hello Steve. As soon as we get inside Midge is coming in the other door. An hour later, with the door to Via del Filatoio open to let Steve and family out, Elida and Guenter are coming in. Too fun. Our first evening is shaping up nicely. And tomorrow? We have a plan. And that is where the raves began.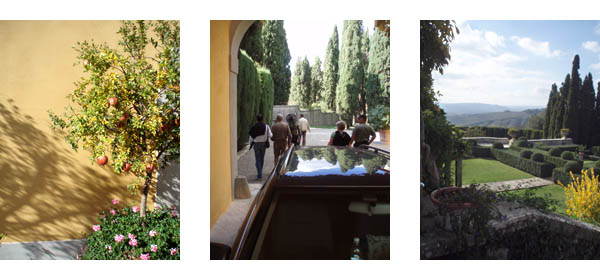 HELLO, MONTECCHIELLO.
MONTECCHIELLO, Tuscany – Hard not to rave and rave about this lovely side trip we launched into our first full day on the ground. How have we missed this jewel? We've read all the books about it. Its right in our neighborhood. 20 minutes away? Past CianocianoTerme near Montepulciano.
We are just such Philistines that despite entreaties from left and right we had not ever been to La Foce. Have you been there? If you have you know the Iris Origo connection. And most importantly, have you stopped to eat on your way to La Foce at La Porta? Add in a summery summery end of autumn day and good friends and you have the ingredients for quite a day. We loved every sun-drenched minute.
We felt we knew the Villa La Foce a bit because it is annotated and documented in several books. One book related to it would spin us off into another and it's a very rich and interested combination of stories. We'd read Iris Origo books including The Merchant of Prato, and War in the Val d'Orcia and we have the big coffee table photo books of it, so it is strange we hadn't hopped over there. But it was high on this trip's list and we made it happen Day One.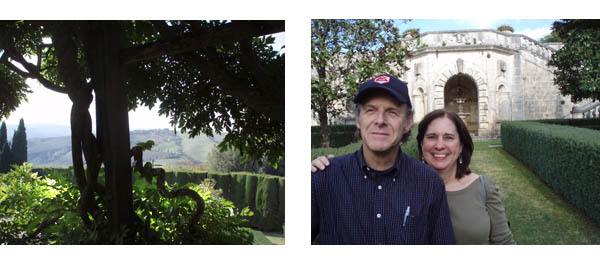 The story of how this massive, landscaped fantasyland villa and more than 10,000 acres of farm can to be is well told in all the books about Iris's life. And what a life she had. She was half English, half American and pretty much all Rich. Her mother owned the most important Medici villa in Florence and Iris rebelled a bit against that and went Back to Nature in this farm life she chose for herself. Sort of. It was a farm but a fairly gilded farm. The gardens and grounds were spared no expense and are palatial at least. Every color plant and tree frames views that were embellished and enhanced and perfected over the years off into the distance as far as you can see. Which they could do because they owned from the villa to infinity. And beyond.
One of the lame reasons we hadn't seen La Foce is that it is only open for two showings a week. 3 pm Wednesday, followed by 4 pm Wednesday. 10 euro ticket and worth 10 and the price of a plane ticket from wherever you may be.
LA PORTA: THE DOOR TO TRUE HAPPINESS
But IF you need more motivation, treat yourself to lunch at La Porta before La Foce. No, really. Go ahead. You deserve it. Like the name implies it is right at the village gate. Montecchiello's gate. We were outside bonding with the sweeping views of the Sienese crete from the terrace overlooking the valley. The stone terrace itself seems carved out of the old old city gate. Most excellent position and it was wonderful to have sunglasses and or floppy hats almost required by the brilliance of the sun. But the food outshone even this. Paulette had gone on and on about it to us our first night. So when Steve, reading from a scrap of paper, said "Aldo wrote this name here . . . some place named La Porta. . . ?" we said Heck yes, lets get there already. Complete out of body experience. The staff was so cool they let us sample around and really enjoy it all. We ordered all three of the antipasta specials they mentioned and they brought us each a small plate and we dived in. Really and truly have no idea what the names of all the cheeses were but lets just call them Most Excellent Cheeses. One was a super fresh new cheese, almost cottage cheese consistency (Steve later set me straight: burrata is its name and it is a "young" mozzarella). There was a big plate of that surrounded by diced red tomatos. Too good to be true. Another plate was all fresh greens and bits of a glorious something cheese and the last plate was warmed pecorino morbida and Cinta Sienese proscutto. The ham from that white belted black pig is legendary in this region and totally will put you off all others. They did the sheep cheese here like brie and spread it on bread and we fought ever so politely over the scraps and crumbs on every plate.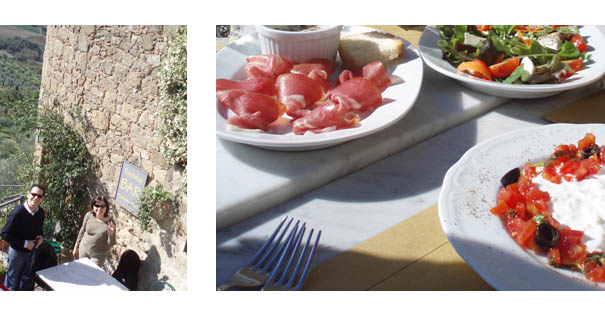 And the staff here at La Porta didn't bat an eye when we said we wanted pasta samplers as well as mix and match anti pastas. So all of us got plates that included pici and duck, pici and cinghiale (they were so embarrassed. This was to be on papparadelle) and ravioli stuffed with artichokes.
ITS ALL TOO WONDERFUL
One of my favorite meals in decades of eating in Italy. The day and the company and the location had something to do with it but this was some fine recreational dining. The local white wine was off the chart as well. I saw Steve look up from some stellar food, wash it down with the wine and look back at their glass and not wanting to interrupt a conversation in full swing at the other end of the table just mouth What IS this? I'll ask him later if he remembers finding out the name of that heaven in a glass HEY STEVE. Ok, he doesn't remember either. But what I call it is Mightyfine. Just like the whole day. Worth the whole trip. And we are just getting warmed up what with this being merely the first FULL day.