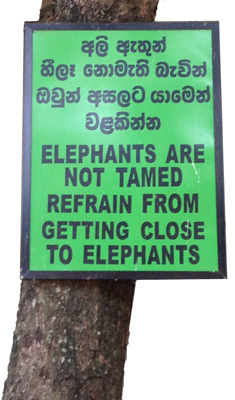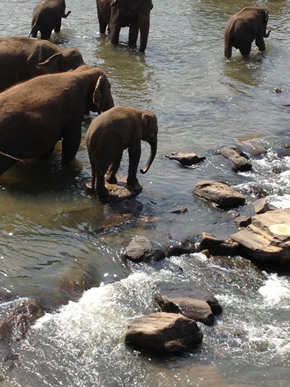 Day 25 DATELINE SRI LANKA – More dancing men greet the QM2 on its maiden call in Colombo. The elephant orphanage was sweet. We saw them bathe, be bottled and babied. Once they're rescued, they remain at the orphanage with an occasional gig at a temple or festival.
You know how the sign says to refrain from getting close to the elephants? Not true. Their curious trunks and huge bottoms were right in your face. Here they're on their way back from the river for a nice lunch. They eat 250 kilos of veggies a day.
Sent from my iPhone

Fun trying Skype last night. Will try again tonight. I am so baffled by these recent, almost nightly, time changes. We're 11.5 hours ahead of you today – 12 tomorrow. I'll try you at 10:30 am EST and will be on the deck where reception is better – unless it's raining again. Apparently we're hitting the leading edge of rainy season. Who knew? I'll scan the laptop around so you can get a 360 view.
We'll be in Singapore for Chinese New Year!
Got the new STV web site rough – nice!