LONDON, via Umbria — We were going by England on our way back from Italy when we thought, gee we're right here — why not see our daughter graduate from college? And now she has gradutated. And she has a job!
Weren't we just in Umbria a minute ago? Can we really be in England? Must be. Where else are there two story high red buses, the tall black cabs and flower–covered pubs with improbable names on every corner? And look, swans and sculls sliding past us on the Thames. It is not just the stuff of magazines and post cards, after all. It is all totally real. And totally engaging. That is the London we love and look forward to visiting as often as we can and it is right on our way to Italy. So we do stop by there often. We had very strange timing this trip, what with the bombs going off twenty-four hours before our first stop in London. That was on the way to Italy. And then, of course, the second batch of bombs was going off as we were taking cabs to the airport to leave London.
OK, that is less than great. We've loved our daughter being in school there. Last year both our daughters were in school there and we loved it twice as much. They are both done with London for the moment but we've all got so many friends there that we will just worry and fret for them too. And we will be back. It is going to take more than a few crazy people to keep us from seeing our friends in London.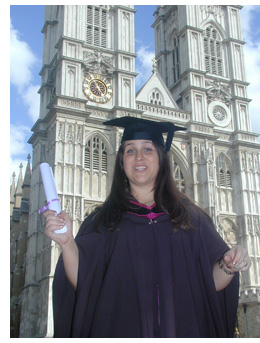 HAVE YOU SEEN "THE GRADUATE"?
This was a big and memorable weekend. Wiley graduated in her Hons program in broadcasting at the University of the Arts, London. Got her BA in three years by getting the school to believe she really didn't need to be a Freshman and could she just start as a Sophomore please. No idea how that worked out. But it did. Way to go Ms Wiley. She came. She saw. She graduated.
Wiley is coming home to the States this week and BIG NEWS she is going to start learning the ways of SeeYouInItaly here in our offices in Maine and being a new marketing assistant. In September she is planning to be in Italy and seeing houses and learning the ropes on that side of the ocean. She is also planning to further her Italian studies. She was in Italy for a month last September and really raised the bar on those Italian language skills by a mile. And then, true to form for a marketing girl, she found out her teacher had a house she just could not sell. And a very nice place we all thought it was. Wiley referred her teacher to the broker, we put the house on the web and Bada Boom Bada Bing sold it in short order.
Clearly, the focus of the trip was the graduation. What a fine and impressive ceremony. And what a location! Very downtown. Buses and taxis swirling about, Big Ben a block away in full view, Westminster Abbey right there across the street. Go over and touch it if you like. Seemed all wonderfully unreal. Still pinching ourselves a bit. (By the way, parents of college age kids — did you know that universities in the UK are about one fourth the cost of university's in the US? Can you say 12,000 dollars a year vs 40,000 something? Un-huh. That's what I'm talking about. Yes, we were able to rationalize a trip now and then to see her in Italy and in London)
Later that fine graduation day, post-ceremony, we got together with friends and supporters of Wiley's at her favorite Moroccan restaurant. American friends, Italian friends, British friends. And that went on and who knows how long it went on. Good times were had by all. I'll fight anyone who says the food is bad in England. We had so many Italian restaurants on our streets you wouldn't believe it. Literally one after the other. And there truly is a nice Pizza Express on every corner in London these days. And the Lebanese place we ate in! Oh my yes. No idea what I ate but think it was chic pea related and I know it was gooood. And does anybody know when did the English stopped drinking tea? I mean clearly they have. I tried to photograph and write down the names of the coffee places within 50 paces of our apt on St. Christopher's Place. Not just Starbucks, trust me. Huge places named Carducci's with every kind of Italian coffee and pastries. And a few feet any direction lurked more coffee-oriented fare. I gave up trying to document them all, like grains of sand on the beach. Any where we went in London we could get ourselves as cappuccino-caffeinated as our wildly beating hearts could bear. But, I say Old Bean, Did I see any Tea Shoppes? I think not.
OLDE ENGLAND VS NEW ENGLAND
And now, just some random pictures to prove we really were in Olde England vs our New England. We think London is always a fun thing to do on the way to or from Italy and always worth a side jaunt. We might take BA Boston to London and then Florence. Or Rome. Oh, and thank you British Airways for upgrading lucky us to the giant business class fold all the way down sleeper beds in the sky. I've always wanted to see what kind of high life was happening at the top of those stairs in the big jets. And yes, I will have that complimentary champagne now, thank you very much. Ta! Cheers! Ci vediamo, la prossima volta.