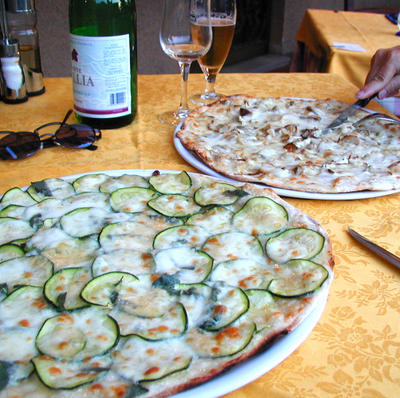 LAST DAY IN UMBRIA — You bet, I've got something Green in my teeth. Annnd, I'm loving it. So there. Final night in Umbria. I can do what I want. Tomorrow we are leaving for England and daughter Wiley's graduation. We had so many kind offers of party time that we hardly knew what to do but we did what we could till early evening and then snuck off for a quiet final dinner together. I think we needed to settle down regroup a minute. And figure out where the plane tickets were. And figure too how and when the packing would happen between early evening and way early morning departure.
Leaving a town as small as Panicale is hard, once you've goodbye'd your way through town you hate to go out again. Hug, hug, seeyousoon, kiss, kiss. Tante Cose Belle. Ciao. A settembre! Hey Stew, you still here? Sigh. Such sweet sorrow.
But we soothed that sorrow by going off to a nearby pizzeria. Nearby, but someplace where we weren't 100 per cent guaranteed to see everyone we had just said goodbye to. The Burnt Goose in Paciano filled the bill. L'Oca Bruschiata. They have everything, full menu, etc. AND they do a great wood oven pizza. And that was all we had in mind. Oh, Waiter!
We ordered. And watched the sun go down in shades of neon pink. It was setting behind the similiarity colored pink geraniums in the flower boxes on the railing of the terrace over my shoulder and casting a peachy glow over us all. Where di the day go? Where did the whole week go?
The sun may be setting on our trip – but here comes the pizzas!
Mine was green as a leprechaun. Did they call it Tutto Verde? Hmm. Did not permanently register its name. What made me order it? I do not know. Zucchini being full in season, probably. So, the three greens were Zucchini, Salvia (sage) and Basilica (basil). With mozzarella thrown in for good measure. If only I could have captured the taste and smell in my photo. But a picture does tell a certain bit of story. See Midge&rsquo's fork digging into her pizza? She was not, in any way, willing to let hers cool off for the sake of art. Or even Stew-art. Hers was strictly porcini and mozzarella. It tasted like a thousand carefully selected exotic flavors, but no, only two ingredients. Both pizzas had cracker snap thin crusts, and roll your eyes back taste. High art in deed.
And on that happy note we say goodbye and turn out the lights on another trip to Umbria. See you next time.
See you in Italy,
Stew