DATELINE SOMEWHERE NEAR BANKOK – WHAT A WONDER FILLED TRIP AND MORE TO GO. Its a big world out there. It goes round every day. But we rarely get to go round it. Thanks for sharing with us Kiki!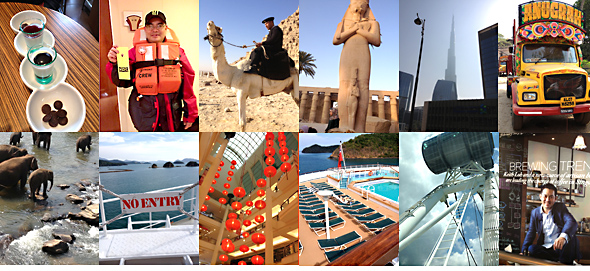 To review to date, Southampton to Singapore. All links to posts, in order of trip appearance:
Fireworks of Southampton sendoff
Lights around the World, from Egypt
Safaga, Egypt. Sunny with a chance of Champagne
Transiting the Red Sea, AUDIO FILES
Food moment on the Gulf of Aden
Scottish night at sea. With Haggis. VIDEO
Riding camels, and high tea in desert
Not your momma's burka, Dubai (world's biggest Cruise liner meets world's tallest building)
CRUISE AND CRUISING. Oh, btw, yes, that photo is of THE tallest building in the world, and it is THE tower Tom Cruise was actually climbing in the latest Mission Impossible movie: Mission Impossible 4 Ghost Protocol. Check out the behind the scenes link. If you have a strong heart. Gulp.
Further btw, Queen Mary 2 that Kiki rode into Dubai on is the largest Cruise Liner in the world.
Abu Dhabi, men with whips, falcon, bazaar, VIDEO
Bright colors of India, w/VIDEO
Ape-filled streets of Cochin, India VIDEOS
Spa is expensive, Indian Ocean
Bathtime at elephant orphanage, Sri Lanka, VIDEO
Langkawi, Malaysia, islands or Maine blizzard
Kuala Lumpur, Malaysia start of Chinese New Year