Hey Stew,
We did clear Dubai and I'm going to send pix as soon as I can. I agree with you on pirates and the QM2. In fact there's a journalist here from Reuters who asked if he could quote me on not being worried about pirates. My logic was the same as yours but I'm sure it will come out dumb because all I managed to say was 'It's … a … big … ship' Kathleen O'Connell, 66, Portland, Maine, USA.
Hey! I was forgetting you might be still up. We're now 10 hours ahead of you! I'm having coffee and juice. Heading offline now — it's expensive!
Kiki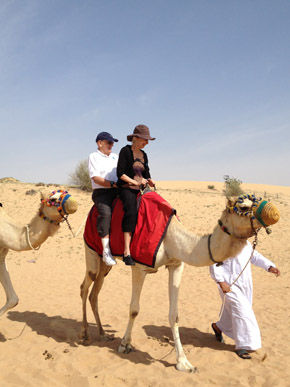 DAY 17, DATELINE DUBAI – We did a roller coaster 4-wheel drive through the dunes then lounged in tents eating dates and sipping Arabic coffee. Stew, you asked about coffee on the cruise: The QM2 does tea much better. Every afternoon with scones and cream.