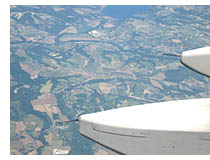 YARMOUTH, MAINE, LONDON, FLORENCE— October is here, October is here! We can count the days till we leave for Italy. 18. Ah, that is a fine looking number. Finally. Whew. But HOW do we get there? Let me count the ways. We've flown into Antwerp, London, Frankfurt, Paris and probably other places I've forgotten about.
One thing these originating flights all have in common is that they seem to want to herd you up the gangplank late, late afternoon or early evening so that you arrive in one of those capitals completely confused and sleep deprived at five in the morning and then they expect you to scamper off and find that connecting flight you've been fretting about. And by the time we've hopefully made that connection and found a rentacar or the train, we're just bushed and useless for the first couple days in the promised land.
Here's what we're doing this time. There are a very few U.S. to England day flights and we are taking one. Leave Boston in the morning and arrive in London early evening. Their time. But it is only early afternoon by our bodyclock time and so we can even keep up with the Wiley Traveler who will be there to meet us. Even if she has us out till midnight it is still only 7 pm to us. Bring it on! She's going to grad school there in London now and so, of course, that was our original excuse/reason to fly into London on the way to Italy. But think about it. OK, that's long enough. Really folks. How bad can it be? Couple days in London on the way to Italy and you get there fresh as a daisy? Va le la pena in my book. London is almost on the same time zone as Italy and the flight from London to Italy is short and sweet. When you haven't been up all night. Can't wait.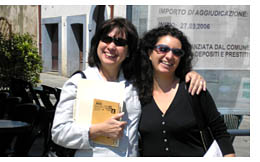 BIG NEW NEWS
Speaking of flying, Katia (shown here at left with Midge outside the real estate office in Italy) whispered this news to us: Ryanair is going to start flying into Perugia! Three times a week. Ryanair Stanstead (London) to Perugia. Starting in December. Wiley said they rumored that last year and nothing came of it. But they appear to be booking flights there now. It must be true, it is up on their web site. And we believe everything we read on the web, right? Well, good. Was counting on that.
Their two newest landing sites are Perugia (in our very own backyard) and exotic Malta. The price of the Pisa/Malta flight I typed in as a test at the end of January was 10 British pounds. Yike. You can't stay home for that price. And that includes the taxes and airport charges it says. Oh, we'll be trying that one. I've flown into Perugia before but not since they extended their runway. We'll see how they are at handling 150 Ryanair passengers at a time. I liked the airport. Small but likeable. So, I'm cautiously optimistic. And I'll be watching for good low specials London/Perugia for our next trip. If we can pair that with a special from Boston or New York to London we'll really be getting away with something.
Stay tuned to this spot on your dial and see how this Ryanair connection pans out. In the meantime, we've done those day flights to London, they work like a charm and we are Ready To Go!
See you in Italy,
Stew