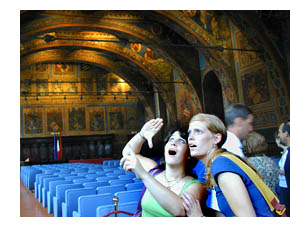 Ciao, Ciao, Amici,
As the Wiley Traveler I have had the good fortune to collect a bunch of Wiley Friends over the years, from Maine to Switzerland to Italy and London. One of my oldest and dearest friends, Jenn Corey, is also one of the best travel buddies I have yet to find. From drives-across-America, to giggle-fits on the Cutty Sark in London, to Panicale on its Umbrian hilltop, Life is always an adventure with Jenn.
I remember returning to Panicale after a long weekend in Florence with Jenn and it felt like: A) three days had been turned into three jammed packed weeks and that: B) That the Rapido I had just gotten off of had run me over – yes, always an adventure.
I was spending a year in Umbria when Jenn was in Florence doing a pre-architecture term through Colby College by way of a Syracuse program. Every day that I was there visiting her she would (literally) drag me out of bed as soon as the sun peeked over the stone window sills and then she would proceed to walk me miles and miles from this cheese stall to that mountaintop monastery, to those Bobolli gardens, to that secret hole in the wall restaurant, to God-knows–where. And back.
At night we would go to members-only jazz clubs or funny kitchy disco-teques. And between the two of us we would stumble merrily through conversations with just about everyone we would meet. And we met a lot. From Sicilian boys (and their sisters!) to the lovely Valentina who rescued us from a lecherous Aussie by spilling beer on us and swooping us away to the 'bathroom' which was really the free drinks and good conversation end of the bar that she and 20 other Fab Florentines were inhabiting. Yes we can get ourselves good into trouble.
We got A for effort, but Language was always an issue. Some of my favorite memories are Jenn and I, together, being able to hold a single conversation with some unsuspecting Italian. My half of this two headed being had a better vocabulary (at the time) and Jenn's half had the grammar; so I would start shooting out five or ten words that made some sort of descriptive sense and she would rearrange them and interjecting prepositions. Maybe two heads actually are better than one. Maybe it only works with a certain amount of wine.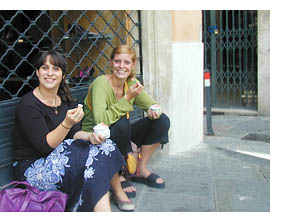 Hopefully, now, a few years later, I have gotten better at Italian. But with Jenn, there is no question. After graduating from Colby with an Art history/English double major she decided that perhaps architecture wasn't her bag after all and that English might well be. And to go to grad school for English – you have to know two foreign languages- oh the irony!
Well, between getting ready for grad school and planning to teach abroad, Jenn found the Middlebury Language Immersion program. This is the poorly kept secret of all college language professors- the ultimate quick fix set against the backdrop of a Vermont summer- go figure.
It is a non linear and maybe completely unexpected way to become fluent in Italian. But is there really a bad way? Regardless, Jenn's Italian has come out- dare I say it- better than mine, and in very short order. This fantastic program, replete with its exciting/daunting absolutely No-English Policy is rightly famous. And Jenn was nice enough to share her insider's view and we thought we just had to pass it along.
Ciao, a tutti,
Wiley Vreeland
————————————————–
ITALIAN IMMERSION. A MODO VERMONTO?
MIDDLEBURY, Vermont — Aspetta! Unhand that mouse! Credi sulla parola, you are in the right place. My cursor is taking us back to the states, but—as I discovered this past summer—really not so very far from Italy. In fact, given the rolling hills and aggressive pastoral pride a Tuscan could feel almost at home in rural Vermont (trade pecorino for cheddar). And, as it turns out, on Middlebury College's small liberal-arts campus, could carry on a conversation quite nicely.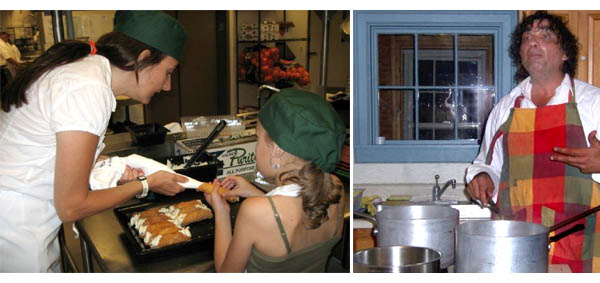 It may seem counterintuitive to look for Italian immersion in perhaps the only state to rival Maine in cultural diversity—we can't count the cows—but every summer for two months Middlebury works to convert a collegiate bubble into a small international globe: something akin to Disney's Epcot for the academically-inclined. The much lauded program enrolls around thirteen-hundred students from a mélange of backgrounds, a sprawl of future hopes and dreams. And by week seven—waking in bed with your textbook from the night before (come si dice: osmosis?)—more often than not those dreams are coming through on an Italian frequency.
But many conjugations before you start dreaming in translation, there is much work to be done. Living the everyday in a foreign language can make even reality seem somewhat less than lucid; it's amazing what the inability to name things does to the mind. However, when I got desperate enough, I found myself a regular Petrarchan poet—reeling off fourteen lines just to court one elusive word (I can picture it on the vocab list: it was between the Italian for "to do aerobics" and "fishmonger"), and after dealing with my problem for about eight phrases, I usually probed a creative solution. But, as a beginner speaker with a severely limited verbal toolbox, sadly, sometimes the mot juste just would not come—usually because I was working in literal translation. But how to purge all those lovely, native, idiomatic phrases that made my writing—for instance—so blog-worthy? It was a genuine, if incomplete, process of deconstruction. And eventually I got my stubborn English self out of my own way and did my best to tinker with the Italian I knew I must have…somewhere.



Philosopher and sometimes lingual theorist John D. Caputo said, "Whenever deconstruction finds a nutshell—a secure axiom or a pithy maxim—the very idea is to crack it open and disturb it." And what better way to take apart your own language than to chink away at it with another? Right? Unfortunately, I am allergic to nuts. But when in doubt in life, food is (almost) always an good place to start. What goes into your mouth may be the single thing more important than what comes out of it. Hence, I found out how to get back to basics at the language school dining hall. Everyone always has something to say about food, particularly—you may have heard—Italians. And the constructions are usually simple. The Pizza Regina pleases me. The gamberetti with the faces still on them do not. I would really prefer a Florentine bistec. Even the occasional idiom from the other side of the isle: the pasta was usually way past al dente—count yourself lucky if it stayed firm to the fork. So while even the mensa had the best of intentions (replete with green roof, in fact…oh, Vermont), sometimes the better classroom was the mondo vero.
And it was in the spirited moments outside classroom walls that my Italian came forward to realize itself—Middlebury knows what it's up to. The program offered a host of extracurricular distractions: movie nights, theatrics, tango lessons, soccer games, our very own Sistine facsimile from the resident fresco expert. No doubt many students found their Italian between their toes on the tango floor. However, I have two left feet….or, case in point, ho due piedi nello scarpa (two feet, one shoe).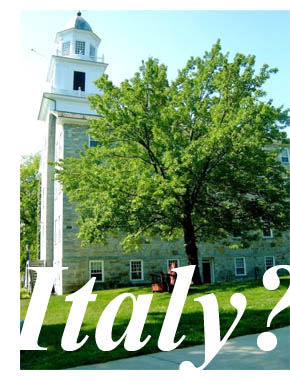 For me, all it took was an improvisational step outside into the verdant Vermont summer and you couldn't help but comment. Italy has its own graces, but here the sights (green, heaving mountains), the smells (manure that makes you remember where dinner comes from), the sounds (OK, maybe bocce practice, maybe birds) gave you a sense of immediacy that I couldn't help but think of as Italian.
In a childlike embrace of experience the passato remoto tense felt a little bit less important, and, thus, left you more free to remember it. With good company and a good picnic blanket I was able to say all that I needed, without stress or urgency. The word sentire issued in full force: to taste, to smell, to hear, to touch—to feel.
So many more words in English than in Italian. Striking that a single verb could mark the spot where such distinct, refined senses coalesce; deliverance from a muddled mind back to the world that makes those thoughts worth thinking. Complex categorization simplified by basic need. Watching La Dolce Vita (1960) to suss out the Fellini of Amarcord (1973). Looking for Italy in Vermont and, on some level, actually finding it.
Jenn Corey, 2007
————————————————–

Thanks Wiley, thanks Jenn! And now that you are all so fluent, lets get you all on a plane to Italy already! Think of the times you will have!
Ci vediamo, a presto
See you in Italy,
Stew Vreeland