A TRAVELER'S GUIDE TO LIGHTWEIGHT NEW BOOKS ABOUT ITALY
Welcome to shortest, darkest day of the year. Grab a couple books, it's going to be a long, sunlight-impaired season. Why don't we pretend we are in Sunny Italy for a few hours?
LITERARY ALERT– Do I hear an Ecco in here? Well, no. Neither of these books are up to Umberto's level or Dante's or Calvino's. These two new books aren't even by Italians. But they are about Italy and Italian life as seen through two foreigners' requisite rose-colored glasses. If, for the sake of comparison, you say Umberto Ecco is a nine course meal with fine wine and, stand back! flaming deserts, well these two tiny morsels are snackish-like things that drop out of vending machines in brightly colored foil bags. But, in the putting-money-where-mouth-is department, I have to say I've liked both of these books enough to walk up to the check-out counter with them. And to read them. And to gift them to friends. Sure, gift is a verb. Why not?
PLAYING FOR PIZZA AND LIVING IN A FOREIGN LANGUAGE.
That seems like a good title for one book. But it is two. And both are perfect for sampling by the open fire. So, feet up on the couch, pillow punched into shape. Open at page one.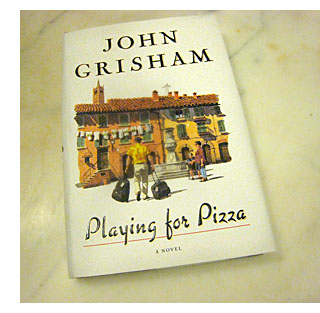 Playing for Pizza first. It's light but tasteful. Light, even by recent John Grisham standards. I rather think he's newly discovered Italy's fulsome charms, like so many people out there in the world. But unlike the rest of us, he's figured out how to get his publishers to bend to his request for research time on their dime. In Italy. Sometimes his Italian connection is a stretch. The last book I read of his, The Broker, started in the U.S. President's office and ended in the middle of Bologna. As if there wasn't plenty of that in Washington. Fine, fine, whatever it takes. As long as the plot ends up with some trite, fairly obvious Italian words in italics sprinkled here and there, we're good. In our house we have shelves and shelves of books of, by, or for Italians. And (gasp!) some even in Italian. Ok, those are mostly Dylan Dog comics. We had a whole small room set aside for Italian themed books in our previous house. Maybe that was extreme. Fear not, we haven't thrown any Italian books in the dumpster, but just have all our Italian books in the same room with books on all subjects in one bigger room with more shelves. Still segregated, of course.
But enough about me and my book stacking habits. In Playing for Pizza, Grisham has an interesting premise: minor NFL player backs into the lineup of a huge game and being an idiot, blows his big chance, the game, and his career just like that: one, two, three. And he is consequently now so roundly hated all across America that he goes to one of the few places where they actually don't care: Italy. In fact, in some quarters of Italy where they haven't gotten the memo yet, he remains a bit of a big shot. But still, being Italy, where our football is teenie tiny minor eccentric leaning sport, our hero basically has a metaphoric sign around his neck reading "WILL WORK FOR FOOD". Which, at this point in his life/career, he's grudgingly willing to do. He's not the sharpest tool in the shed, and you don't have to be either to see how this will pan out. Othello it's not; nobody dies. But it was a pleasant passa tempo even so.
And yes. They DO have "real" football in Italy in addition to that popular imposter they call football, but which any right-thinking person can tell you is soccer. Be that as it may, Italians call our football "fooootball Americana" to differentiate it from their football/soccer/calcio thing. And why on earth would I actually know this semi-useless fact?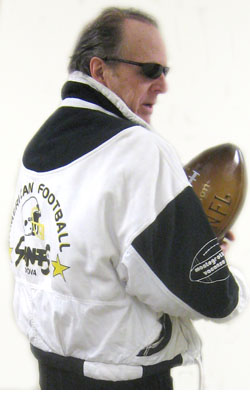 That would be Alexia's fault. She was our foreign exchange student and her family owned the Padova Saints. I still have a Saints jacket as you can see. Oh, you wish you had that. And oh, the things I learned from Riccardo, Alexia's wild card of a dad. The main thing we had in common was that he and I both hated any boy she brought home on either side of the Atlantic. "You let her go out with HIM?" he said just a bit too loudly (but at least it was in Italian) while pointing to the insolent, bad intentioned rogue slinking through the door under the porch where we were standing. "She's YOUR daughter" I yelled back. "YOU should have raised her to know better." Ecco il pappa. Times two. Of course Riccardo knew full well what bad American boys were up to. Because he "owned" a bunch of them and hung out with them as much as he could. Bon vivant barely covered this mischievous, wise cracking ad guy. As soon as we got to Padova he introduced us to his friend Prosecco. By the pitcherfull. I think that bottles, what, inhibited, Riccardo? He poured us Prosecco in dives high and low as we followed him around Padovatown. Hanging on his every fast-moving word. And he had lots of them. He could, and did, tell stories ninety miles an hour in all known European languages, blisteringly funny; subtle and not so subtle jokes and story lines spilled out across Prosecco- and pizza-covered tables. Occasionally there would be a gap in the blanket of Marlborough brand smog surrounding Riccardo. That is when you would see more cat-that-ate-the-canary eye twinkle than is surely legally allowed.
This was the "capo" of the football Americana team we knew. The Head Saint as it were. A character much larger than life, so any you meet in this book, just assume Grisham met some real ones and toned them down.
NEXT BOOK, PLEASE
Can I pass you Living in a Foreign Language while I'm up? Still comfy? Slippers? Anything we can get you at all? Quick trivia question before cracking the cover. What show was just like, but predated Ally McBeal? Don't give me that look. Don't tell me you only watch PBS. Here's my theory: if there is a TV plugged in somewhere in your home you probably (just a guess) have at least occasionally watched the same shallow stuff we do. And you probably have secret favorites like all the other Neilson Families out there. LA LAW was one of ours. Michael Tucker, remember him? Played a short, soulful, over-sensitive lawyer in the show. In fairness, he probably didn't actually play short, he probably just is short. Like his book.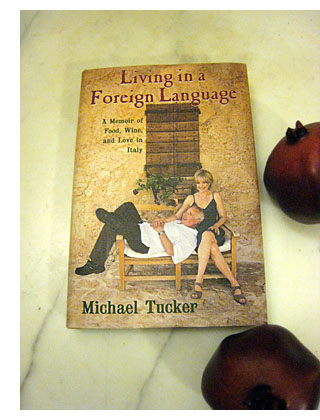 It is the typical, misty-eyed, Isn't Italy Amazing genre. He's clearly happy, happy, happy with his new lifestyle there. The food is fresher, the sky bluer, people friendlier, the sun sunnier, you know how it is. The usual. We liked book. My wife bought it in an airport and elbowed me awake to say "We KNOW all these people in the book". Awake now. And it was a gas to us. We do know, at least by long term email relationship, the people who sold the author his dream house. And we are pretty sure we know the people who drove him to it. They used to own a wild B&B we visited a few times with friends of friends. Their place was so over-the-top Michael bailed out after one night even though he had paid for several nights in advance. Could totally relate. He left Tuscany with his shirt tail flapping after him and headed out across Umbria to find a place to stay. Any place just a little more Italian and a little less kitsch. And in true novel tradition, he immediately stumbled over the traditional diamond in the rough, way off the beaten path that had never been on the market and was available to him that day. And it came with a full set of built-in friends for life.
I thought he had a nice, breezy, open, accepting, non-judgmental way of jumping into la dolce vita with both feet. Seems very in touch with himself, doesn't do the "star" thing where the author puts himself in the center of the universe. And hey, he's an actor. And an actor from LA. Even so, he still really seemed like the kind of guy you could party with. I know! He hasn't called you either? What is up with that? I'm American, he's American, we've both been to Italy more than the one time. Why aren't we being handed the plates piled high with local indigenous treats baked to perfection in his massive wood burning oven? Think he's lost our number? That's it.
I'd say it again, this book is a light and tasty treat. You sense the people, you smell the food. Every few pages I feel, just for a moment, sigh, that I'm there. Sitting at a plank table under Christmas lights strung through low-hanging grape vines. Glasses clinking. People laughing, telling stories. And here's the Stew Personal Opinion: at the end of the day, on the slowest page of this book it's metric tons more fun than Under the Tuscan Sun ever was. That's right. I admit that I watch junk TV and that Under the Tuscan Sun is pretentious twaddle. Michael talks constantly about food. But does he slap in an impossible bet-you-can't-do-this-where-YOU-are, you-poor-saps recipe every few pages? Thank heavens, NO.
Why in the name of everything that is good and sane and logical would I want a recipe? In a book. In a book I'm reading. Am I standing in the kitchen wearing a gingham apron with frilly trim? No. I'm on the couch, in my favorite purple NU Wildcats sweatshirt, shoes off. I'm r-e-a-d-i-n-g. Is this a book, or a cookbook already? Decide. Get back to me.
Oh. Did I go off on a tiny momentary baby-rant there? Sorry. We're back from the dark place now. I liked Michael Tucker's book. He's surprised that he finds himself in Italy. He's not strutting and posing, or worse, condescendingly gloating about his exquisite and well-deserved good fortune. He seems like a kid in a candy shop, honestly tickled to pieces to be there, basking in the moment. It's infectious and fun. And he knows he's living the dream. Thanks for sharing, Mike.
There you have it. Two book reviews for the price of one. Unlike real reviewers who get free pre-release books backed up to their office door by the semi-trailer-load, I've bought both these books, I've given them to friends, and I may buy them again for other friends. And I still want a copy on our bookshelves. I'm just not putting them up on the same shelf with Lampedusa's Gattopardo.