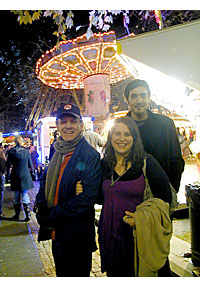 LONDON, England—No, London-Limestone is never going to replace Venice-Istanbul on the Orient Express. But there these two very different destinations were in the same week on our travel calendar recently. What a long, strange trip through time and space it was. The contrasts were just so extreme and so obvious because we visited them back to back. In a few day's time we saw one daughter at the center of the universe — balmy, temperate, downtown London. And a couple days later we saw the other daughter at one of the universe's furthest flung and most likely to be frozen solid outposts — Limestone, Maine. Where? Limestone, Maine. No, really. Yes, really. Even though we live in Maine, Limestone, Maine is seven hours north of us. Could anything sound more remote? Or actually be?
CROSS CONTINENTAL DAY TRIPPING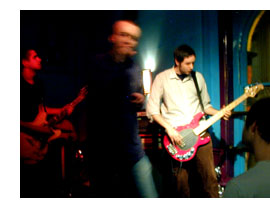 LONDON—Have you ever taken the flight over the pond during the day? This works swell for my body clock. We leave Boston at 8 am. And hit London at 7 pm. Versus the killer overnight where we arrive at 5 or 6 am, hours before your hotel is ready for you. On a normal, "work day" in Maine we would be leaving our office at five pm. On this travel day, at that same time of day, it was 10 pm in London's East End, and we were in an orange and black striped Indy club (The Urban Bar) trying to talk over impossibly loud music. Wiley's boyfriend Daniel is the bass player in a rock band, and we wanted to see and hear his gig. Hearing it was not a problem at all. Hearing anything afterwards, another subject entirely. So. There we were. Fresh as Daisies because our bodies said Heck, it's Five in the Afternoon. Let's Rock.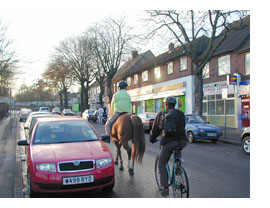 WILL WE LIKE THE SUBURBS OF LONDON?
WELL, I THINK HAROLD WOOD.
Daniel's family has a new home in the far outskirts of London in a town called Harold Wood. And we wanted to experience a bit of that, too. They found us a place near them called, bizarrely enough to me, New World Hotel.
And here I thought England was part of the Old World. No Matter. It was the quintessential Tudor manse drowning in Charm and Class. It even had a formal "Italian Garden," and our huge, huge antique-laden room had organic-themed, Art Nouveau styled, leaded glass windows, looking right out on the garden. In answer to your unasked question – because you are way too polite to ask, really – it was 89 GBP "pounds" a night. I've paid twice that in downtown London and gotten rooms smaller than this room's marble clad bathroom. Being the shallow, easily impressed outoftowners, that we have proven ourselves to be, I loved seeing a RED Rolls Royce (no, I did not know they painted them that color, either) parked right under our windows. Rolls or not, we felt Positively Royal the whole time we were there. Che shock. I know it was way off-season, but even so, the price seemed incredibly fair, the people so nice, we did not want the magic moments to end. We really wished we could spend an other night. I checked with the front desk. Our room was available. So we grabbed the moment and stayed.


SPOTTED DICK AND KING HAROLD
The town of Harold Wood is pretty. And, pretty idyllic. Especially when you consider that it is part of one of the major cities of the world. It is clearly urban. But urbane as well. To get to Daniel's house you get off the train right in the town center. Walk down the main street and you almost feel like you are on a country lane. A couple cars, a taxi, a horse and rider, two bicyclers constituted the traffic on our first walk through town.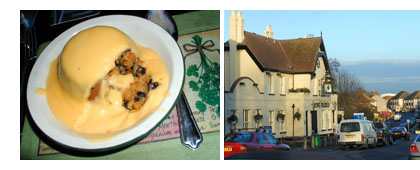 In the block long village center we couldn't help notice the strangely named Laughter and Tears Flower Shoppe (weddings and funerals, you figure out which is laughter which is tears, I suppose) an Asian take-out called Bamboo Garden, a great Indian restaurant which we sampled and loved: Bombay Palace, and a great "local" King Harold pub that looks right out of the movies stucco'ed with many chimneys and gilded signs. Spotted Dick by the way, is one of those classic, bizarrely named desserts you should be able to get in any good British pub. We Puritan Americans would call this dish something wild like Raisin Cake with Creme Sauce. All this wonderful English-ness is to be found in the single block of Harold Wood outside the train station. A half a block further on is their house. At the other end of the rail line, all of London.
WHEN IN ROME
Don't think that we got so caught up in the rural life that we forgot about London. We do what right thinking people should do and follow "a local native" to the best. We always make sure we find our Panicalese friend Francesco when we are in London. His famous Umbria Rentals web site is the reason we have a home in Italy and specifically in Panicale. If you have not been to the site, run there quickly. So much information about the area of Umbria around Panicale. Francesco is from Panicale, but he is half Swedish and totally uber-global, man about town. No matter what the town. Londontown, Cape Town, China Town and every place in between. He and his British girl friend Alison, travel constantly but always come back to London so they can set us straight on hot new plays, museum openings and the best new restaurants. They seem to have fun surprises to share with us every time we come to town. We now have blind faith in their awesome recommendations.
The world is Francesco's oyster and he eats up the oysters and everything else London has to offer, with relish. But, let's talk about British food for a moment, shall we? For generations "English Food" had a big ugh factor going for it and that is about all. Not anymore. Not if you follow someone like Francesco around town. We've eaten Moroccan with him, Turkish, Indian, Italian of course, of course and this time Japanese. I know what you are thinking: I saw that yawn. I am the same way. I often think that all Japanese restaurants get the same five gallon buckets of generic goop off the same truck. OK, put some cashews in that one and some pea pods in the other one. Close enough. Boring as it can be, it is somewhat addictive and we find ourselves needing a fix of Thai or Chinese or something a couple times a month.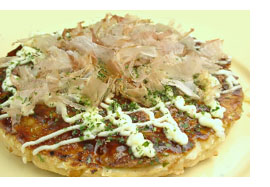 OK. CAN YOU SAY OKONOMI?
Well, neither can I. But this kind of Japanese food is a revelation. Especially in the way we were able to sampled it at the Abeno Okonomi-yaki , a block from the British Museum. I Googled them (okonomi london) when we got home and it appears this is London's ONLY Okonomi-yaki style restaurant. I saw one review that said it was the only one in EUROPE. Oh, us tourists from the wilds of Maine and Umbria are out on the leading culinary edge now! Tiny tables with hotplates built in them like the Benihana's of old. Fresh, fresh ingredients of veggie and meat variety, your choice, cut up before you and made into an awesome something. Can I call it a pancake? Maybe. Some people call Okonomi an omelette, but I remember eggs being an option that only showed up in some items on the menu. Regardless, there is some light, light batter involved as it all holds together quite nicely. Here are some of the things we sampled but had never seen on Asian menus before: Furikake On, Gyoza, Inaka DX and the ever-popular Nasu. Have you ever? I, certainly, had not. After cooking the pancake patty a bit, they put a shiny metal lid over it, let it cook under that for a short time and then decorated it with sauces, spices, fish flakes, and oh, my. Now THAT is what I call some outrageous good British food.
Coming up next: The Frozen North portion of our trip. After that, Ferraris in the Piazza. Could we interest you in something in red? Stay tuned.