LIMESTONE, Maine— Admit it. To anyone, from anyplace OTHER than Maine, the whole state of Maine itself sounds remote. Being "from away" as they say, I know it sounded pretty remote to me before we moved there. But there is Maine, where we live, and then there is Northern Maine. That is where Limestone is. How far North IS it? Seven hours by car from our house in the sissy Southern part of the state. Limestone looks to me to be North of most things. Including Halifax, Nova Scotia, and Montreal just for a start. Past towns with names like Mars Hill and Caribou. The radio announces time of day in EST and Atlantic Time. There IS an Atlantic Time Zone? I did not know that.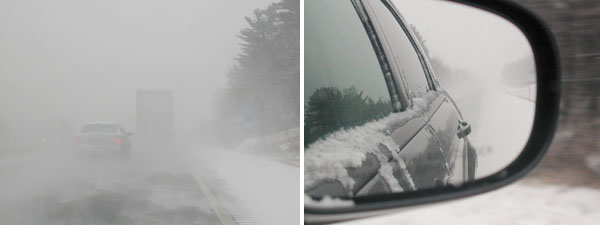 So, if anyone asks you how big Maine is just say BIG. That stretch of road up north in Maine that has never ever seen the light of day, from Bangor (bang gah) to Houlton is two hours of the forest primeval. Trees. A four-lane highway at the end of your car hood. And you. Occasionally there are signs for obscure towns that you could possibly exit to, but no sign of the towns themselves. And today the road itself is a long lonesome ribbon of wind blown, snow covered concrete. Needless to say, you need to "go" before you leave home. There really aren't even any gas stations in sight there. Surely they exist. Somewhere. Out there.
Understanding this cosmic remoteness full well, and being pummeled with tractor trailer blown white outs every few minutes, we gratefully pulled our snow caked car out of the slippery line of traffic and into an oasis of Offical State of Maine Information. We thought we would ask them where to eat before hitting the next stretch of highway. Dysart's Truck Stop was their answer. Dysart's Empire would be more apt. But they did not steer us wrong.
Biggest truck stop I've been in this side of Great Plains. An industry unto itself. Whole sections of the restaurant dedicated to only truckers. Do not even think of going in there without a billfold on a long silver chain attached to your belt. Banks of phones (cell phones systems start starving for lack of towers, inhabitants up here) showers and signs exhorting you to consider a career in transportation See Chuckie on Second Floor, Excellent Benefits.
You know how I was bragging on the exotic new Japanese restaurant in London? Dysart's can hold its own even against those fond culinary memories. The chowder (chow dah), fish chowder was a god send in the midst of this wild Maine day. Pieces of haddock as big as your hand were in our big bowls. We were cutting our soup! True fact. The most all inclusive and diverse menu I have ever seen. Whatever you wanted. Steaks, pies, Italian food, breakfast any way any time. What did you wish they had on the menu? Yes, look, its right here on the next page. And biscuits? Only to die for. Home made breads, too. All home made, home baked, comfort food. Some place on the menu they mentioned the bakery and spelled out how much flour they use a week. Want to guess how much? Would you guess over a ton? As in two thousand pounds in a week's time?
THE LAND THAT CAPPUCCINO FORGOT
I was being a boring esthete when I pointed our car North. Thinking fondly of places we had been recently like Italy, like NYC, like London. Even Southern Maine. Outposts of civilization where you know where your next cappuccino is coming from. And that is one thing I suspect may not be coming to this menu any time soon. But I will tell you I was mighty glad to be there for an hour during the blizzard. It helped pass the time and steel us for the next five hours of road trip to The Forbidding North. And eventually we got to see our baby daughter in the play she was in at The Boarding School At The Top of the World. And, for a couple hours, we got to be the proud parents that we happily are. Grayson went to high school in London for her Freshman year and now here she is at The Maine School of Science and Mathematics, Maine's only magnet school. A study in diversity in one child. She's experienced a wide, wide range of education and geography. And why not? It is lovely and exciting in London, but it is grand up in the tippytop of Maine. Even in Winter. Beautiful, vast, wide-open, unpopulated spaces up there, and we are always happy to see her happy there. But we are pretty happy to be heading to the balmy south of Maine the next day, too.
OH. THAT'S WHERE ROGER'S CHRISTMAS PRESENTS WENT
Seven hours one way or not, we went up to the top of Maine one day, and right back down the very next. The trip back was much nicer. And sunny. And thirty degrees warmer. When we got back to southern Maine, we had to dig our way into our house as it had snowed over a foot while we were gone. And, unbeknownst to us, as soon as we had headed North, FedEx had dropped two Christmas orders out on the lawn by our back door. They did that just before it started to snow. Two, small, white cartons. Which we found poking up out of a snow bank. A few days after Christmas. Life in Maine.
NEXT STOP, WEST TO OMAHA. AND THEN, EAST TO ITALY.
Like a Rolling Stone. That would be us. We're going all the way West to the Qwest Center in Omaha to see two legends together: . The Rolling Stones and Brooks & Dunn. I can rationalize this trip West like this: Rationalization No.1) It is near my family in Iowa. Rationalization No.2) It will be a big time, once in a lifetime, party time!
And then, when both the holidays, and this concert, are behind us, we can start pinning down our exact springtime trip back to Umbria. Finally! Must be there when my roses spread their cheerful springtime yellow all over our pergola and brighten that whole corner of Umbria. For now, we are settling for reading about Italy, cooking Italian, emailing friends and neighbors there and day dreaming of our arrival.
Day dreaming, and wondering: Is our home there missing us as much as we miss it? Has time stood still? Has life there in Umbria been on "Pause" vs "Play" while we have been gone? We know better. But irrational flights of fancy often get us through the day.
————————-
THE WHERE THE HECK ARE WE TRAVEL QUIZ. London? Or Limestone, Maine? These pictures were taken the same week in those two exotic locations. Can you parse out which ones are which?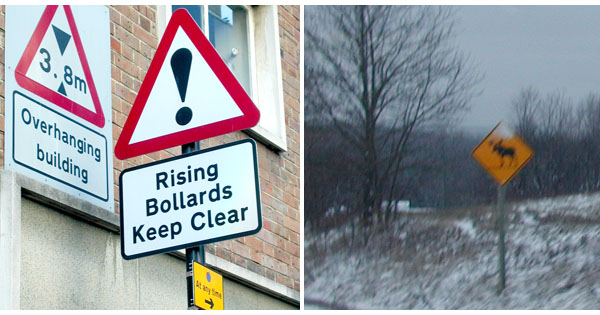 Stay tuned for the next blog featuring Ferraris in the Panicale Piazza. What a collection of classics. Che shock, che piacere.