PANICALE, UMBRIA—We are high up on a hill in Umbria, way off the chart or the map in most cases. But it is not even unusual to see car rallies roar into town and surprise us all with a quick half hour car show. We saw a gaggle of classic race cars from the 30's one time. And we have seen this sort of Ferrari rally multiple times. So not in Kansas anymore, Dorthy. The routes of these rallies are always unannounced, always fun. They are timed and very precise rallies and so they do not let out the schedule till the last second. Die hards would cheat and practice the route ahead of time to get an edge.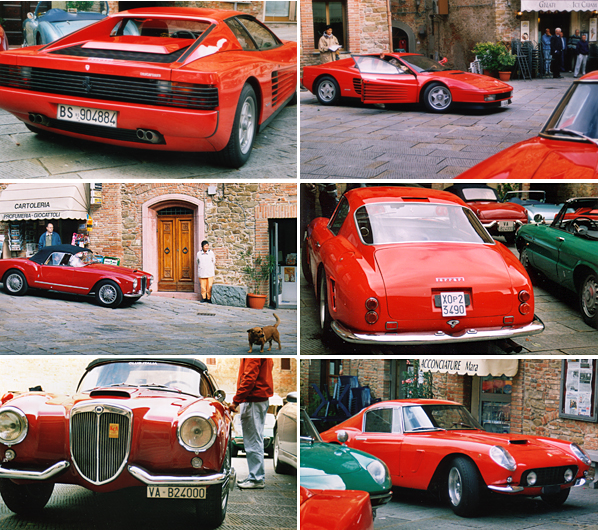 I walked into the piazza and was happy to see this visual feast, but at the same time all panicked because, for once, Bad Stew, I did not have my camera with me. My friend Biano, the town barber said No Problem as he was shooting up a storm anyway. A few days later he handed me an envelope of huge 6 x 8 inch glossy prints. Is this a great country or what?! He wrote the details of the extra slick red coupe down for me. So, when you are trying to find the exact thing on eBay later, you will be bidding on the right model. He says it is the classic 1960 Ferrari 275GTB4. Guess-timated value? You know what they say, if you have to ask . . . but here it is anyway: 750,000. And friends that is EUROS.
Grazie Mille, Biano! Tu sei troppo gentile, come sempre!
See you in Italy!
Stew