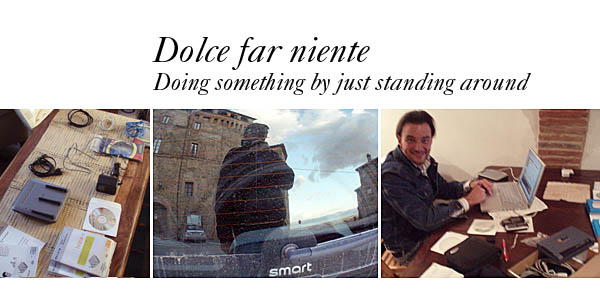 PANICALE, Umbria, Italy–It may LOOK like I am just standing absentmindedly in the piazza. See shady character in center photo. That could be me. Spending quality time gazing pensively at my reflection in the back window of an allegedly Smart, but very dusty car. And photodocumenting the moment for all posterity. It may not seem like a productive way to do business. But don't be fooled. This is power networking I am doing here.
I am, at some level, just waiting. For a miracle. Named Maurizio. Katia says if anyone can unscramble my bushel basket of computer wires and modems and routers and random equipment and make their sum total equal me being on broadband, it just might be her Maurizio aka "Bel Genio". So, I've left the olive harvest celebration lunch and am pacing myself back and forth around the edges of Piazza Regina Margherita. No Maurizio so far.
Ah, but what is this? It is our dear Swedish friend Gun (pronounced goon, not gun) sliding into the piazza in her battleship gray Fiat Panda. This car works for a living. And looks it. Gun uses it like it is a two ton diesel dump truck. She has her cheery Dutch friend with her. We air kiss through the open car window and banter a bit. You have to catch a moment of Gun's time when and where you can. She says, in a long suffering way, that she has thirty Swedes working for her, picking olives for their room and board. She says feeding them is a full time job; so, she isn't certain Who is working for Whom. "And Some of them are So Old", she cries. "They can hardly pick. But they eat like starved people".
Gun is a bit over 70, but doesn't look it or act it; you have to know she means typical old people. NOT like her. Well, they couldn't be like her. No one in their right mind works as hard as she does. I know, I know! Ask me! I have an idea Gun – Why not feed these lollygagging old people according to how well they pick, and see if they pick up the pace? There is the "woosh" of air brakes and our whole field of vision is filled with one apartment-sized tour bus. It is Her Swedes coming back from their olive oil pressing. Gun's son, the Swedish priest, is in the front window – tour guide microphone in hand. They spill out of the bus and swarm around us, covering her in bright, perky Swedish. She gives me a wistful look, and I've lost her.
But look over there. Isn't that Giancarlo in his shiny acid green Fiat? He's pulled up to the Stop sign, he rolls down his window, takes a furtive last drag, and kicks a butt out on the street and makes an appointment to for us to get together the next day. We've both got cell phones, land lines, emails. But he acts like he totally expected to see me right there, right then. Ok, there he goes. See you tomorrow.
A young guy goes by in a car. Is that our Maurizio? Nope. Guess not. Like I said, I have a cell phone and, just to prove it, it is ringing away. Oh. Hi. It is Maurizio. I hear laughing and see him, waving, a few feet behind me. That WAS him in the car. All the planets aligned in under five minutes of piazza standing. And a couple hours later, Bravo Maurizio had us wired. Life as we know it can go on.
Some of my finest work.
See you in Italy (I'll be the one in the piazza)
Stew Vreeland