PANICALE, Umbria – The sounds of chickens clucking, sheep baaing, happy olive pickers helloing back and forth mix and mingle in the air around us. It was foggy first thing in the morning but now the sky is robin's egg blue. Could it be olive harvest time in Italy? I think so. We'd bolted our morning ration of cappuccino in Masolino's this morning and walked out of the village gates and down the white road to our day's work in Elida and Guenter's olive grove. Oh, the happy pickers may be from the far corners of Portugal, Germany, Maine, San Francisco, Australia and Vermont – but these silver leafed trees with their coal black fruit are Umbria at her finest. Strange, that we are all stranieri here but Guenter has been trained in olive lore by local friends. And at least we had a plan. On our walk here this morning we saw what can happen without one. A wide eyed older man we know had a wooden ladder set up in the road outside his house, a net below it about the size of his shirt. And he was up the tree with his cane, beating away with a vengeance. By late afternoon when we walked back, there was an olive oil slick where he'd rained fruit down on the road and the piddling traffic had "pressed" his olives for him. Looked like I'd parked an old Studebaker there for the day.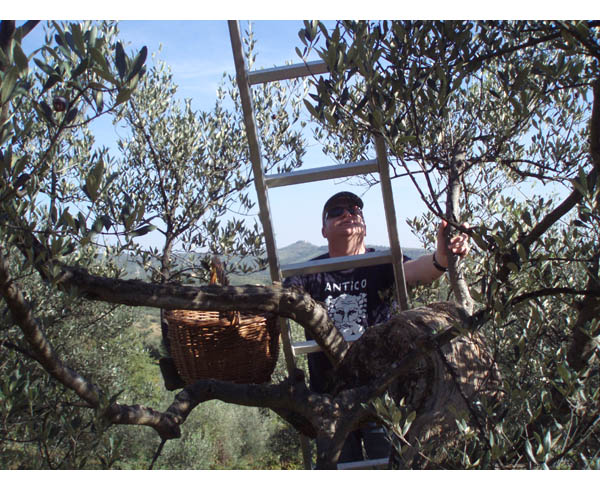 So, foreign or not, we certainly were miles ahead of at least one local. He's locally famous, mostly for his prize winning collection. Of 10,000 or so of those tiny liquor bottles like you get on airlines? Steve from San Francisco said maybe the man only needed enough olive oil for one of those bottles. Allora. But what a day we picked to pick. Kids, dogs, nets, ladders, plastic cartons, plastic rakes, let's go get us some olives!
HOW OLIVES ARE COAXED OUT OF THE TREE. THE RAKE'S PROGRESS.
In this plan, you spread nets under a tree and reach what you can with your rake or your hand. If you have a rake, it is nothing exotic, just an orange plastic one like you would take to the beach in your yellow plastic bucket. Some rakes were modified to be longer by strapping the orange plastic rake onto a stick with some silver gaffers tape. When you can't reach any more, even with a stick, someone shinnies up the tree or grabs a ladder and we keep on picking and grinning until everyone agrees That's close enough. Black olives, green olives, pruning sheers Guenter left up the tree last spring, whatever. Get'em down, we're only going up that tree and setting up this net the one time.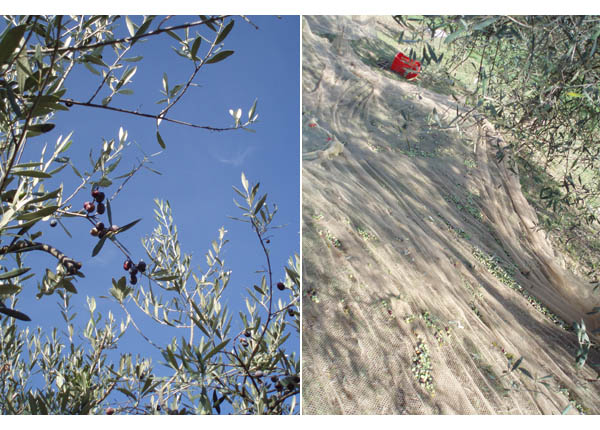 When you are done with a tree you move the nets around, pouring rivers of olives to a low spot in the net. You lift up that part of the net where they've accumulated, slip the net and the olives into a big red plastic box and slip the net out. Vwalaala. All pretty low tech and pretty obvious. So, there you are with a red plastic box of olives, some sticks, some leaves. Sort out the big pieces of extraneous non olive stuff and get ready to move to the next tree. And you'll want your net so you will pull up stakes and pack it up like a careful giant taking down a circus tent for regular sized people.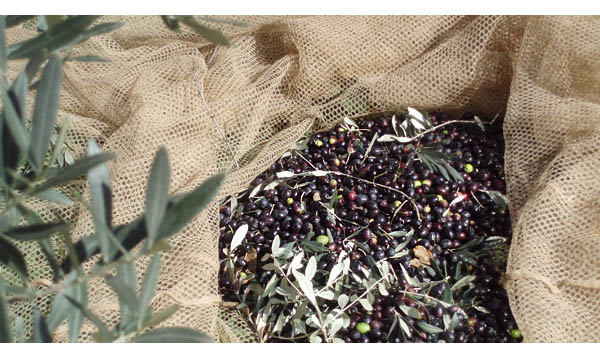 OLIVE PICKING TIME. THIS IS WHEN YOU FIND OUT WHO YOUR TRUE FRIENDS ARE
People come from near and far to do this. You've read Tom Sawyer I suppose? Everyone has a story of who they can get to help pick. The only topic of conversation in town. And lots of the pickers are of foreign persuasion these days. It's basically a math problem. Every one here has lots of olive trees and everyone is harvesting at more or less the same time so everyone is scaring up anyone they can find. Every body is booked and all of those olives have got to come down. Now. Before they fall down by themselves and stay hidden in the grass under their drooping limbs. They say olives are no good after they've been on the ground for any time at all. So every year, about when daylight savings time tells you to Fall Back, you start picking olives like mad before the nice fall weather goes away and the winter rains begin. You just don't pick in the rain.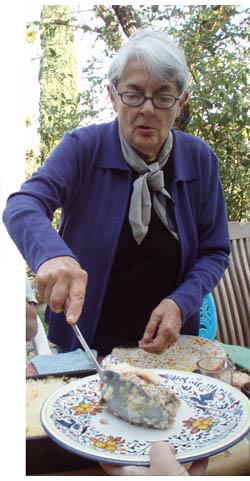 WILL WORK FOR OIL
This was grand. Better than a picnic at the beach. I've picked olives on cold, dark and windy December days and I'll take seventy, sunny and November days – any day. Big fun yakking to the other monkeys up the same trees. And seeing the results of what we've done. Our net worth as it were. And of course the owners of the olives have to feed you at some point if they want you to keep on keeping on. At lunch the first day they have covered a table for 12 with salads, pots of soup and a great Portuguese version of Shepards' Pie called empadas. Add in breads, and cheeses and bottles of wines, waters and of course olive oil and you have a fine reward for an long morning's exercise. We're not nearly as productive after lunch. But the days are short and you pick till dark. And then walk home happy and tired.
After dinner that night, I asked Midge what she wanted to do for the rest of the evening. She yawned "Take a bath. Go to bed". "Sounds pretty good to me" I said stretching and kicking out of my shoes. Pushing up my sleeve I show her my watch. 7:15. PM. Ye Gads. Bed still sounds good. That olive picking is a pretty full body experience. A good day. And a good night to all. See you in the morning. When we'll do it all over again. Like any good Italian opera, this one isn't over till the fat lady sings.
Happy Holidays and
See you in Italy,
Stew