CITTA' DELLA PIEVE, Umbria— C'est la vie say the old folks. Goes to show you never can tell. Sometimes you just have to jump right in the waters. Instead of forever testing them. One thing is certain, you will never know unless you try. Sometimes it works. Sometimes it doesn't.
Two nights ago, it didn't. We took off for a restaurant not too far away because we had heard friends raving about it. Not our night. Cook must have been MIA because it was not up to usual Italy standards.
But last night! We decided to try to call for very last minute reservations at an event we had read about in DOVE magazine. Part of the Umbrian wine and music series cleverly called Bianco, Rosso and Blues. Why, it almost sounds Patriotic and American. But no, it is part of the Trasimeno Blues this autumn.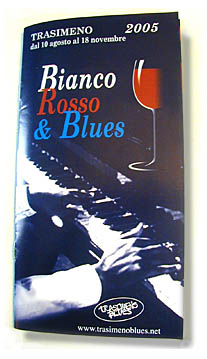 This particular night's event was in Citta della Pieve starting at 8pm. At 7 pm Wiley had just woken up from a cozy late "afternoon" nap. Too early a depart time for Cortona this morning and too many late nights, both of us hunched over our respective computers doing web things. It finally caught up with us. The nice voice on the phone said all the tables were sold out. But, they could squeeze us in with some people at a non-full table. OK, sign us up and we'll be right over. Gosh, Citta della Pieve IS as close as Wiley said it would be. How about that? We are early. Early as only uptight foreigners can ever be. Too easy to get to. Piccolo Eden's name was on two successive signposts as we pulled into town and there we were. Oh, no. it's a rather boring looking medium-sized hotel, and it is well outside the historic center of town. Sigh. Turn around? It is 8 pm, starting time. And. No one there. Us. What have we gotten into Now? We hemmed. We hawed. Or at least I did. So we killed some time reading a brochure about the night's entertainment that we picked up off a counter in the totally empty hotel reception area. Nothing but corn. "Musical Voyage, mix of theater and concert, is it a dream or is it reality?" the more we translated, the deeper in corn we got. Then we thought, what the hey. Got to eat anyway, right? OK. We stay.
PARTY TIME IN CITTA DELLA PIEVE
Hey, wait, this might work out. This is good! The staff in the dining room was expecting us and waved us to one of the many, many empty tables. Empty of people, but decked out in linens, metric tons of silverware (how can one get a spoon THAT sized in one's mouth?), bottled water, bottles of red wine. They were seriously expecting company. And us. They told us we were welcome to hang out on the terrace by the pool or whatever we liked. Which we did. Eventually, it started to fill up inside and we made our way to our table. Way in the back, by the kitchen and as far from area set up for the music as physically possible, without being in the hallway. What did we expect at last minute? Exactly. They waved us again into a couple seats at a round, six person table and gave us the happy news that the other Americans would be right along. Oh. No. They've sequestered us the other foreign dogs. Poverini.
So, we just grin and bear it and settle in to wait our table mates, and Fate. But it was a full moon that night. And Miss Fate was in that kind of playful mood she can get in when you least expect it. Why, Look. It is our waiter, again. Parli Italiano? He asks. Sure, why not? Good, he said. Follow me. I look at Wiley. She looks at me. Both shrug. And follow the nice man in the black pinstriped apron with flashy red zipper pockets. He led us to a table right next to the improved sound stage. Coool. I guess. But our being here seems to have irritated the mamma/head bouncer/owner lady. We say We'll sit anywhere. Really. No, no. Stay, stay. Ok.
HERE COME THE AMERICANS?
Funny. They don't look particularly American. A serious, slender blonde and a bouncy auburn-haired imp glide up to the table, and say "Possiamo"? pointing at the empty seats. Well, yes, of course, we responded. But are you Americans? Ma, no. We live here in town. I teach Italian to foreigners. And my friend is a photographer. So, where are you from in America? Oh, you've never heard of it, I said. The State of Maine. Ma Certo! I have a Maine Coon Cat! Get out of town!
We are soon looking at cell phone photos of the feline in question and there is no question. He is a big silver Maine Coon Cat. The coincidences of our lives just went on and on and we decided we were at least long lost cousins of some degree. Destino! They both said. We were destined to meet. One of the many highlights was when I was being the annoyingly proud father that I am and was "mentioning" that Wiley was a new graduate from college in London, with a degree in Broadcasting. Complimenti! And what sort of things have you done there? She mentioned her biggest film project to date which was about witches. Modern Witches of London and Salem, MA. And, at that our new table mate said Brava, and did Wiley know that she, Galezia, was a witch, too? As was her father. And his Calabrian mother, was an especially good witch. Wait! A real Strega Nonna? Che coincidenza. Ok, let us do the rest of this story tomorrow. To be continuted. . . .