How rude of me. When last we blogged, I had left you, mid-party, in Citta' della Pieve. Picking up the pieces of the party here, where we left off.
. . . the discovery that we were partying with a third generation witch was naturally an unexpected twist. And, what fun, Wiley had just done a short film on Modern Witches. And imagine, yes, she does have the prerequiste yellow-eyed black cat, in addition to the decorative Maine Coon Cat, but she had never heard of Strega Nonna series of books by Tomie dePaola.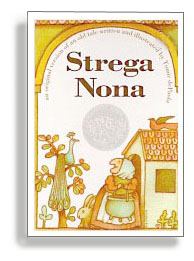 Does every American, with kids, know these books? Well, we did. But the Italians didn't. Not even the one sitting beside me who actually had a real live Calabrian Strega Nonna in her family. But she was soon trading emails and business cards with Wiley and making plans for meeting the next week to film an interview and have yet more Witchy Woman fun. And fun we were having. And then the food starting coming. And coming. The most excellent wine, which we'd already been liberally sampling was Vino Rosso Doc CORNIOLO Duca della Corgna "Cantina del Trasimeno" Castiglione del Lago. Super slick wine. But look at this souffle'! with pomegranite in it. And chunks of parmigiano with balsamic vinegar on them for side garnish. I said I had never had a souffle' in Italy and our new best friends said they had not either! Oh, Waiter! This bottle seems to have gone empty.
The restaurant staff has given up on the remaining two people scheduled for our table and have taken away their place setting now that we are though one course already. But what's this? Another very pretty blonde and her big, tall guy. "Are THESE the long lost Americans, mayhaps?" I whisper to our new best friends? But the angelic blonde is asking Permesso and launching into a ferocious description of why they are so late in warp speed Italian. We all sort of exchange glances again and say Sit, sit. Hi I'm Daniel says The Big Guy. Which explains ever so much the US link. Finally. Code is broken. The American has arrived. But for a Texas guy, he speaks really eloquently. And does so in actual English and actual Italian.
So we carry on as we had been. In loud noisy Italian and totally bring them into our circle of new friends. Now, the new girl, was not a witch. But her name was Sabrina which she doesn't think is a witch name, so we had to explain the Teen Age Witch Thing on tv. And to re-explain the title of Wiley's Witch movie, which was Out of the Broom Closet. Try that in Italian sometime when you can't remember the name of, you know, that tiny room where you keep the broom? Big times. And then the food started up again. A thick chick pea and tiny postage stamp pasta, then a collection of golden yellow, big, thin Tortellis, evidently a specialty of the town.
And in between courses the experts went on talking about the wine. And we went on drinking it. They swirled, they smelled, they talked about hints of vanilla. Don't have to tell me twice how good it is, I'd already figured that out. Hey, Waiter, I said again, holding up the most recent casualty.
And then there was duck. Supreme Duck Imperial, it said, to be specific. I have never been served so much supreme duck or such good imperial duck. And all of it exquisitely and decidedly Non-Fat Duck. To add to the magic, it was served on a bed of incredible vegetables. . Vegetables that weren't, I don't know, not fried not anything I recognized. If they were fried, it was in a new way to me. Delicate, thin, crisp, almost transparent, every piece a different size and shape and color. The menu said they were "glassate"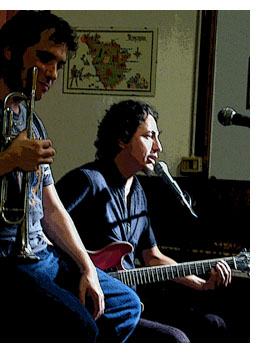 By this time, Folco Orselli the blues singer is at the ivories or guitar, accompanied only by a trumpet player. Cameraman with a huge news camera is filming him right from the start. And we are all stunned how good he is. Think Tom Waite, Bruce Springsteen, Paulo Conte, Zucchero Fornace all rolled into one. What an artist. Raspy voice but young and playful. He seems to be checking out the young witch, peering around the trumpet player to give her a smile after every song. Flapping the cowl collar of her black sweater she said It is getting a bit warm in here, isn't it?
Blame it on nerves, or incompetence, or the wine with the long name, but my brava mini recorder totally failed me. Or I, it. But, I find I have nothing when we boot it up after getting home at 1 am or so. Nothing. But here is a sample of Folco Orselli's music I found on the web. Click on it, in a few beats the music starts and then stand back, because in a few more beats, the singing starts. Folco can flat out hit a lick. I want that new album, now.
Then desserts, multiple desserts. Then coffees, then fond good nights, and we paid our 25 euros and we headed back, happy as larks at what a fine night this turned out to be. Thank you DOVE magazine, thank heavens I can read enough Italian to get us here, thank you Trasimeno Blues. And i think we need to especially give thanks that they were only celebrating the red wines of Umbria that night!