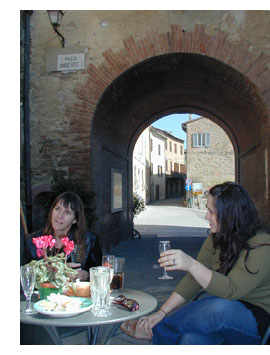 PANICALE, UMBRIA— Today's fun was hanging with a group of Australians in the piazza. Saw Emma and Luca going by after church let out and finally got to meet "la contessa" Luca's cool, Mamma from Sarzanna. Our table is positively full of Sunday morning Prosecco drinkers, . . . and . . . here comes reinforcements! Oops. One hits the ground. Aldo? Dropping a glass? Later, instead of letting him clear off the tables we decided to be really helpful and brought our glasses in with us and Wiley tumbles one. Here comes the broom again. Aldo laughs and sweeps us all toward the door — Everyone go home to lunch! Please. Which we all, obediently, do.
Now, lunch over, I'm in the garden, but I'm going to put down my pencil and just doze in this patch of sunshine. Just. Sit. Very. Still. Like my new role model. That lizard on the plum tree's branch a few feet away. He thinks I can't see him. And I barely can. But it is just the two of us. Absorbing the absolute last bit of today's solar energy.
Ten minutes later:
Pssst. Wiley. Wiley? Want to go for a late afternoon walk after your nap? Wiley? Guess that would be a no.
LA LUNA ERA PIENA. AND IT WAS A FULL MOON TOO.
More Cuckoo. Less Swallow. Actually, no swallows at all. They are so omnipresent in Summer. Hard to think of them as seasonal, fair-weather tourists, like us. Their visual acrobatics are nicely replaced by the gentle coo-coo'ing of the cuckoos that you hear but never see. Oh. There is Wiley. Did I wake you up?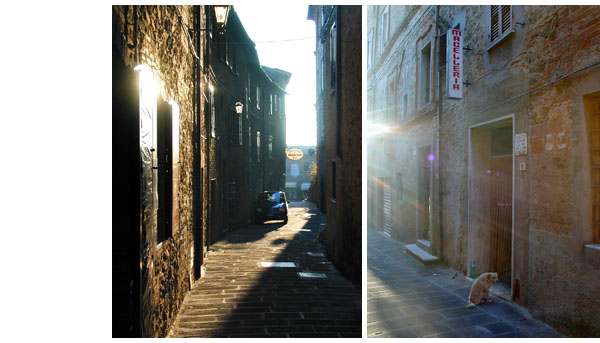 Early evening, the weather still grand, we took a lap around town, took a couple sunset photos of the town. Happens every time. We walk, we get thirsty. We end up at Aldo's where he pours us some drinks as we lean on the polished metal bar. Fresh squeezed combo of orange and grapefruit juice only, I promise! Finally, the crowd has died down and it is just us. And Aldo is in his cups. In quiet moments he is washing up a lifetime of Sunday coffee cups, when one jumps straight up out of his hands and does a suicide swan dive onto the hard, cruel floor below. Not again. What can we say? It has been a funny, full moon kind of day. Well, funny unless you happen to be one of Aldo's coffee cups or Prosecco glasses, of course. And I guess you would have to say, it been a smashing day for them, too.