ITALY, UMBRIA . . . AND BEYOND — First of all, I am not a total straight line kind of guy. I try to be organized, but ten minutes after I have cleaned the garage, my office, anything, I've got everything all stirred up again. I'm a mass of carefully controlled confusion at most times, but total chaos reigns when I am traveling. Keys for Maine, keys for Italy, driver's license, passport, international driver's license, plane tickets, whoa. . where DID I put those tickets? So many things to take with on a trip. Or not take. Finally cured myself of donating a Swiss Army knife to the security guards every, single, trip. That took awhile.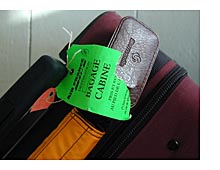 Ok, Hint One. Hey, the bulk of us are not immigrating when we go abroad. It is just a trip for heaven's sake. Are we going to places totally without stores? Well, I hope not. But, you would never know it from the freezer-sized pieces of luggage I see so many people checking in. I hope my daughters are both reading this. The stuff they will bring for a weekend should come by truck or cargo ship containers. But anyway, I'll just say it: I hate waiting for bags to come off the carousel after a long trip. Only thing worse? When they don't come off the carousel and you have to go describe your precious cargo and hope it really does eventually arrive and they really do bring it to you, before your vacation is over. But the waiting is wearisome. And your mind is racing as you are pacing. How long will the taxi lines be? Will all of these people be cueing up ahead of me? Will my ride wait for me? Will the last bus come and go while I am cooling my heels here? Customs. Look at the line growing over there.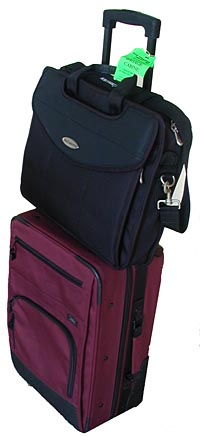 So. I take one small, but light and efficient, wheeled suitcase. End of story. One. After a lot of false starts and inopportune choices, mine now happens to be this vaguely purple one from L.L. Bean. We ARE from Maine, afterall. Yes, this is not an ad. Think they probably have plenty of business as it is. But this is a nice bag. We have actually got plenty of dumb bags at Beans, as well. This just doesn't happen to be one. This one works. Light, simple, efficient. Typical, wheeled bag big enough, or actually, small enough to qualify as carry on.
When I get off a bus or out of my car, I pull out my bag, I lift up the pull handle on it and loop my laptop bag's hand straps over the pull handle. Totally obvious concept, everyone does it. For good reason. That way, the pull bag can carry my laptop. And not me. And then, I'm off like a shot. Traveling light. And since I am not waiting in line, ever, for random bags on the carousel, it DOES matter, if I am early off the plane. So, I ask for seats on the aisle and toward the front as a matter of course. Not THE front. That's for babies. You don't want to be there. Just sort of toward the front. When the plane lands, I can be through the airport, past customs and on the bus headed north to Portland while people from my flight are still milling around hoping their bags made the same trip. And it works coming in, too. On this trip, there were hundreds of people in line, out-going. The Air France guy that presorts you as you get in line and makes sure you are on at least the right airline, on the right day, saw me and my carry-on only, and waved me out of a line of literally 2-300 people and into a line of two people. I was number two. Living lite and living large.
Once through with check-in, I head for a wash room and put my belt with metal buckle, wristwatch with big metal band, coins, ANYthing metal into a pocket of my laptop or small wheeled bag and I go through security like nobody's business. I'm squeaky clean and they rarely ever look twice at me. And I do what they say and not act all surprised at the last second. If they want laptops out, have them out. Shoes off? Same deal. I was through check-in and security in maybe 10 minutes. In Boston, Mass, with throngs of people going the same direction as me. I win! I win!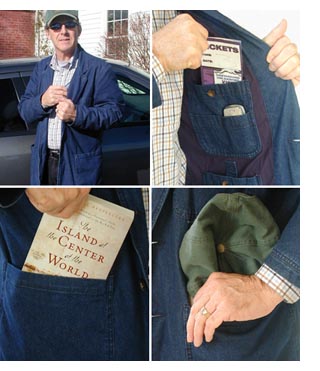 FLIGHT JACKET? GO AHEAD: PICK A POCKET, ANY POCKET.
Hint Two For some un-recalled reason, someone at our office had flagged an article for me from the WSJ and I took it home to read. My attention wavered and then wandered over to the ad next to the article. Very homemade looking, cartoon-y ad talking about this magic sportcoat. At least that is what I call it. Duluth Trading Company has it. And now, thanks to the internet, I have it. I am from the Midwest and I think Duluth is in the Midwest too. Minnesota, maybe? But I had never heard of this company. I don't know if it is a fashion statement or not, but I've seen worse in the airports. You sweatsuit wearing people know who you are. Yes, I am talking to you. Anyway, this coat is Denim and it is lined. Way soft. But here is what got me: pockets, pockets, pockets. Deep ones, big ones, small ones, pockets hidden inside pockets, zip top, flap top, open top. This was its first trip and I used it day in and day out. Totally passed the travel test. I thought I was going to be, at one point, a wild life photographer vest wearing kind of guy. Got the vest, wasn't that kind of guy after all. I put it on, I hung it back in the closet. This sportcoat, on the other hand, works for me.
In the airport, passports and tickets go in a big inside pocket. Note pad and pencil in a big outside pocket. The paperback I'm reading goes in another. I've got what I need during the flight, on me. I pack the rest of the stuff up over head and never look back. During the days and nights around town, I'd shove my clunky old camera, (digi, but old and big as a couple cans of Spam) into one pocket, cell phones in another and I am ready to go, knowing I had my minimum requirement of Stuff, my security blanket.
It helps me maintain my number one travel rule. Be prepared. Prepared for the moment that may never come again. At least have your camera and a note pad with you at all times. Even if you are "just going for a quick coffee, dear".
Writing this, right now the jacket is on my lap defending me from the Air France Air Conditioning. So, now it's a security blanket, with pockets. And no, this is not an ad either. I know it may sound like one, but believe me when I say there was no money in any of the pockets when I got it and Duluth's computer thanked me in an email for being a valued new customer. So, I paid them vs the other way around. I'm just saying what works for this guy after a million three hundred trips, might work for someone else somewhere down the road.