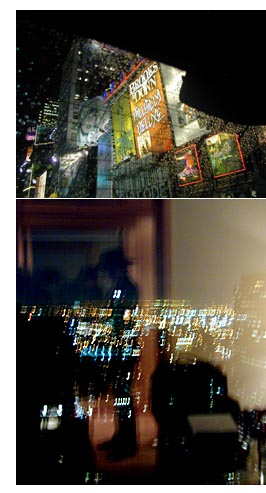 NY, NY— Let's see, how can we contort being in the Big Apple for the Country Music Awards into something Italian? Could be tricky. No. Wait. I think I see an opening. OK . . . how about this: we stayed at the Michelangelo Hotel and saw works by the real Michelangelo at a gallery?
The hotel is very cool, very downtown and quite Italian. Coming in late Saturday night, I saw bound-up stacks of "La Republica" next to stacks of New York Times. And get this: they carry Rai Uno on the TV's in their rooms! Our satellite dish in Umbria is so out of whack that we can't get Rai Uno in Italy. And they get it in NYC? How DO they do that?
We blame our problem on Moonlight. Our satellite TV guy, who we could not find on our last trip, is poetically named Marco Lumadiluna. Marco Moonlight. Could there be a more evocative name for the person in charge of bringing moving pictures down from the heavens? Allora, non fa niente.
GALLERY SLAVES
The art by Michelangelo was in the Salander-O'Reilly Gallery up by The Frick on Central Park. Our son, Zak, is the librarian at the gallery and master of what looks like hundreds, maybe thousands of art reference books. So, we had to go see him, in situ, in this new-ish job. What a place. Sculptures by Bernini, paintings by Tintoretto, carved life sized madonnas, rooms full of them, in fact. Crucifixs? What size do you want? We went to the Salander Gallery after seeing the Fra Angelico exhibit at the Met and before going to the Frick and before we saw the illuminated Italian manuscripts at the Public Library.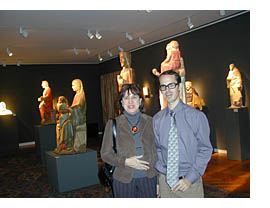 As you enter Zak's domain in the fourth floor Salander library, the first thing you come to is a Cellini sketch. And a signed letter from old Benvenuto, himself. In the totally, non-public reference library! I guess I can, make this about Italy. Yes. Yes, I can.
LA DOLCE VITA, LA DOLCE VINO
We ate at several fine, fine Italian places in the city including Scalinatella which is just down the street from the Four Seasons on the Upper East Side on East 61st. Hyper hip. All the waiters spoke Italian to each other. Loudly. And in an accent I had never heard, so I got a case of timid and didn't get into it with them. Food was off-the-chart good. Waiters were suave, funny and engaging. And the wine. Aces, truly aces, 1999 red wine from Montalcino, which is near us in Italy. Just velvet.
You know, this shoehorning Italy into New York is pretty easy, once you get into it. We also had great Italian Proseccos and pastas at Orzo. On west 46th in the Theater District. We ordered all kinds of fun anti pastas for the table and dived in and liked it too.
What with cappucchinos every morning and Italian food almost every night, it was rather like being in the old country. And the Fra Angelico show I mentioned at the Metropolitan was Really like being there. I did not previously understand, or fully appreciate how articulated and gilded his backgrounds are. From studying him in art history I knew he was amazing, in person and in quantity it was really overwhelming. The detail, the etched lines in the gilding in the feathers of the angels was just too wonderful for words. He could paint on wood in a way that would make that wood turn into surreal, luminous, precious metal, fabrics truly fit for angels to wear. And consider, if you will, these pieces of art are hundreds of years old. My mind boogles and reels at seeing them. Imagine the people of the times seeing these when they were new.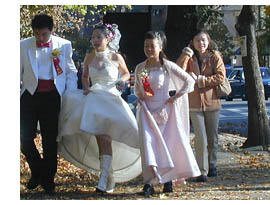 SHOW ME SOME STARS
We were lucky enough to tag along to party where James Gandolfini (Tony Soprano. How Italian/American can you get?) was hanging out in the middle of the night in a big party house on Gramercy Square. We did not speak, omerta and all that, but for a moment, we were so traveling in the same circle.
Oh? The Yoko thing? OK, she may not be 100 percent Italian, but as long as we are name dropping here . . . we had finished our Italian sausage sandwiches and I was shooting some photos near Zak's gallery. A pretty Japanese bride was walking to her wedding photo session in the park, her formal, hoop'ed wedding gown hitched up to mid thigh over white Nancy Sinatra type boots. I was focusing on that, when Midge poked me in the shoulder and said See the Purple Jacket that just went by? Yes. You just missed it . . . That was Yoko. Oh, no!
Buone Feste! And Happy Holidays too!