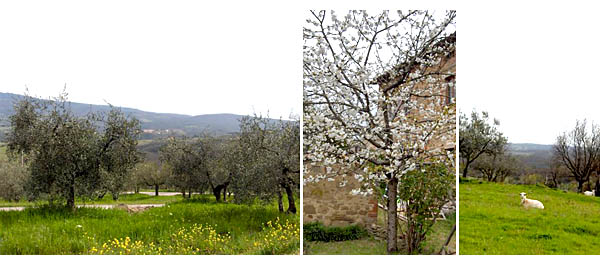 UMBRIA—Ah, Spring. I like the word Spring. Such a nice, bouncy action verb. And who doesn't like all memories we attach to the word? Bird sounds when you first step outside in the morning. Fruit trees in full flower, sheep in the meadows, yellow wildflowers rolling on and on over the Italian countryside. And grass. Green grass in that unnatural green color that we only see in the first lush early days of Spring. It really is here. Well, it is "here" if you are in Umbria, true. It is still snowing in Maine. But in Italy, at least, it seems safe to say Spring has arrived.
And everything really seems for a moment, somewhat right with the world. Note: this rose colored view is greatly enhanced by skipping the morning newspapers and just going quietly out into the morning. But, things have changed. Italian friends are upbeat and happy. We've all been shut up in our homes all winter, like bears coming out of our Caves with Cable, sniffing the air, rubbing our eyes with the back of one paw, scratching some matted fur with the other, looking around and thinking This is ok. Did I miss any thing? Suddenly I am getting emails like Where ARE you? When are you coming? Did you know "your garden is green and flowerish" Perfect. Just how we like it. The electronic jungle drums beat out other happy messages. Yes, Anna is cleaning the house top to bottom. And, trust me Anna DOES do windows. And does them like I've never ever seen windows done. She turns glass into polished air. And, speaking of windows, good friend Bruno HAS hung the new chestnut shutters Vittorio made for the entry hall windows. I'm sure the town was tired of seeing us wandering about in our bathrobes behind rattan blinds.
Little by little, even if it is being done by remote control from far away, we're gently waking the house on Via del Filatoio from its long winter's nap. Breathing life into back into it so it will be ready for Wiley.
THE WILEY HAS LANDED
LONDON—Slightly sleepy, slightly jet lagged, but still excited to be back on that side of the pond, Wiley calls to check in, five time zones away from Maine. And only one away from Italy. Getting warmer. Closer.
She will just miss Italian Easter this year. Too bad. It can be such a fine time to be there. You miss a lot if you get rain, as that often cancels out Good Friday, Stations of the Cross, and plays heck with the Day after Easter Cheese Roll in Panicale. But shortly after Easter she'll be along and be sending in reports on all the latest real estate, fun gossip and Big Girl Adventures in the old country.
These spring photos here were taken by Katia, at a brand new listing — Ciliegio, just outside Piegaro . Have you been to Piegaro? Its right there between Citta della Pieve and Tavernelle. Keep going past Tavernelle and you find yourself in chic, fun Perugia. Piegaro is just south of Lake Trasimeno and of our Panicale. Here, I will put in a map.
Anyway, I thought these snapshots evoked the season. Complimenti, Katia. They say Spring to me.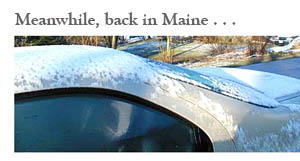 But then. What do I really know about Spring? See attached photo of snow covering our car taken on the self same day as Katia&rsquo's Sheep in the Meadows shot. Allora, Spring will even get to Maine. Sometime. And we promise to be most appreciative when it happens!
But, in the meantime, look out Umbria, Wiley will be In The House in less than two weeks. Stew in 48 days. But like Christmas mornings we thought would never come, the time will actually pass and we will wash up once more on Lake Trasimeno's shores. And it will be worth the wait. Va le la pena in fatti!
See you in Italy!
Stew