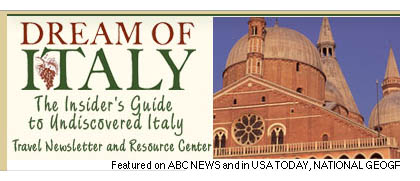 UMBRIA, 45 DAYS TO GO—
Well, this was a fun diversion. Our new friend, Kathy of Dream of Italy, Travel Newsletter quoted little old us in her latest edition which featured Tuscan Hideways. Her newsletter describes itself as the "Insider's Guide to Undiscovered Italy: Newsletter and Resource Center". And it does that very well based on her latest edition. She had a great cover story on an exotic estate outside Florence called Mangiacane. It was certainly undiscovered to me! And the story made me want to go there, even if I probably will not be able to avail myself of its helipad in the foreseeable near future. But I can Dream, can't I?
This is SO not an ad. But Dream of Italy is a paid subscription newsletter, so I guess you will have to get take our word for it that we were in there. Or get a subscription. But there we are. Right on page 8 talking about Tuscany and Umbria. I made two points about finding something economical in Tuscany. The first one was that buyers need to consider southern Tuscany, the area around Chiusi. The other way to save money on Tuscan real estate is to . . . buy in Umbria! And why the heck not? Umbria is Tuscany is Umbria. Really. Those rolling cypress-topped hills do NOT have a clue where the border is. All the same to me. If you look at a map, Tuscany is on about three sides of Umbria anyway, driving down the road, even on a casual jaunt to Cortona, we find ourselves going across the border over and over. Tuscany, Umbria. Umria, Tuscany. Who cares? They are both great!
Anyway, Complimenti Kathy, nice to know about your publication. We were tickled to be mentioned in it.
YOU CAN QUOTE ME ON THAT!