PANICALE, Umbria, Italy–Our friends Peter and Sarah are packing as we speak to head off to their lovely, newly renovated house in Casamaggiore, in Umbria. They just called last night to ask if we had seen the March '09 issue of Food And Wine Magazine. It features our Umbrian hilltop castletown of Panicale. Sarah is a great and inspired chef and baker so she has a subscription. It isn't in the newsstands yet. We've checked. But the How to Cook Like You Own an Italian Villa article IS online already.
Matt Molina, a chef at L.A.'s Osteria Mozza stayed at his boss's house recently. That would be the Panicale home of Nancy Silverton. She is a co-owner of Osteria Mozza and the story line is about Matt's food adventures all around this part of Italy. I'm getting hungry just reading about Panicale. And all nostalgic as well. But, we are taking action!
LOOK OUT ITALY. HERE WE COME. THE $700 CLUB?
We have plane tickets in hand and happy to have them. We chased prices up one side of the internet and down the other. We've made this trip hundreds of times and it's an adventure buying every time. This time we found very good and reasonable $700 something on Alitalia. Boston to Rome direct. An overnight flight is an overnight flight. Direct flights makes life so much simpler and so much less room for that "Oh, sorry your connecting flight couldn't wait and oh look there it goes without you" business. Plus, this non-stop flight gets into Roma at 7 AM. I'm good with that. Landing at say 10 or so after pulling an all-nighter finds me much less coherent than at 7.
Our car rental charge for three weeks were in the low $700 range. We went through, as we usually do, Auto Europe. No, this is not an ad. I WISH I got paid for mentioning them! Alitalia? Same non-lucrative deal. Anyway. We ran through our car needs and the bottom line kept coming in just under $900 – for three weeks. Part of the problem, one issue, was that we were coming into the country at 7 AM one day and leaving at 10 AM on the way out of country. So that Three Hour Day became a full day's charge. Talk about not enough hours in a day. I could pay the charge or hang out watching the clock for three hours. After being up all night? I don't think so.
So I called Auto Europe back and said "But what if we put our early-morning, post-arrival time to use and headed North by train to Chiusi. And picked a car up there at the train station? Chiusi is easy to get to by train and only ten minutes from our house. No sweat, they were all about that. That not only chopped a day off our bill, but they said they were also able to take off a "Rome airport delivery charge." That was a new one to me. And in the "That Doesn't Make Any Sense, But I'll Take It" category they then said if I picked their car up in Chiusi I could return it to Chiusi or at the Rome airport-–for the same price. Our choice. Here's what I got out of this exercise: I asked a few questions, had them email a couple written proposals to me, and didn't take the first rate they gave me. And after a couple five minute phone calls, I had somehow saved almost $200. Highest and best use of my time all week!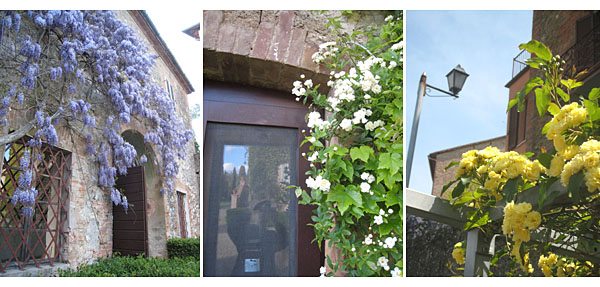 LA PRIMA VERA IN ITALIA.
MA! Va le la pena. As they say. Umbria in Spring. In my mind I can almost see it, touch it, feel it. Whatever effort it takes to get us to the promised land is worth it. So, now that the airline and car rental planets have been so nicely aligned, we are holding our breaths and happily counting the days until our mid April touchdown.
Spring is one of the best times in Italy and we can't wait to see our all our friends there. What a breath of fresh air it will be after a bundled up winter of snow to see the Umbian countryside in all its many shades of green. The fruit trees will be in bloom. And dozens of kinds of flowers, the early bloomers. We especially love the forty-foot-long yellow rose bouquet our house and garden set out on our pergola to welcome us home at this time of year. Grazie, grazie infinite, Casa Margherita.
Non vedo l'ora and I can't wait, either.
See you in Italy,
Stew Vreeland
The purple and white spring flowers shown above are from Spannocchia outside Siena, Tuscany and the yellow ones are from our garden in Panicale, Umbria