ORVIETO, Umbria, Italy – We leave for Italy in: 1 week. 7 days. 148 hours. But who's counting? Me, is who. In the meantime our friends Cay and George are in Panicale and having a fine time of it. I'll let their iPhone words and pictures tell the story of a typical day of spontaneous fun in Italy. It's all about being open to the moment.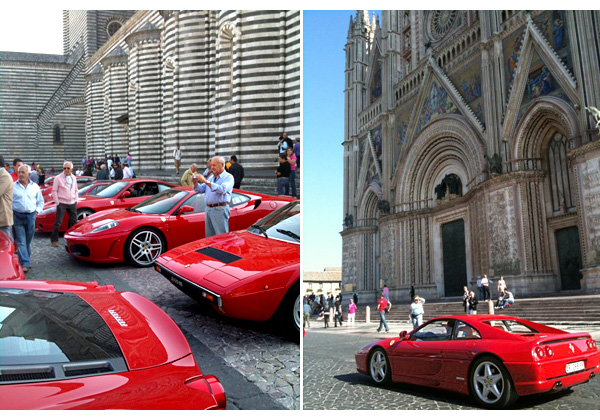 ——————————-
Just as we arrived in Orvieto this morning a whole string of Ferraris
came roaring by and parked beside the Duomo while Mass was going on
inside. Only in Italy! There must have been 30 or 40 of them. Didn't
mean much to me, but George was going nuts!
Orvieto Underground was really cool and we went down into the St.
Patrick's well with the two circular staircases.
Only 4 day left and still so much to see! But we are enjoying it all
and it is so nice to come back to Panicale at the end of the day!
Cay
——————————-
OK, there's a great story here dealing with lost opportunities,
temptation, marital relations, luck, and redemption. All intertwined
with Ferraris, including an F40 modified for the street.
Wait till you see my pix from the real camera
(I took about a zillion), plus short videos of 40 red Ferraris
zooming down the stone-lined, side streets. One of those religious experiences you
get once or twice in life. Cay wasn't quite so moved, but I took it to be
a gender-linked miraculous event, in the land of saints.
George
——————————-
Must be a cultural thing. Red Ferraris, White hair, Blue jeans and Blue dress shirts. I'm getting one of those blue shirts so I can hang out with the big guys the next time it's Take Your Ferrari to Church Day.
See you in Italy, and see you there real soon!
Stew Vreeland
P. S.
If you want to follow along via Twitter, click this link, then hit "follow" under my getting-ready-to-go-to-Italy face. We'll try to send a blurb and photo a day. Prefer facebook? We're equal opportunity and we're on that as well. Go "be a fan" and you'll be all set