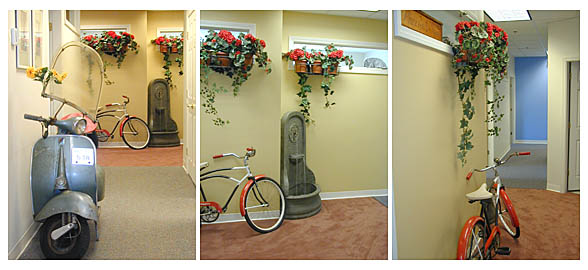 Do you remember what I was saying about being in Italy even when we are not in Italy? I guess our recent office renovations would bear that out. Working fountain, cat sleeping in window by geraniums. And we have always had a certain amount of Vespa art in our hall way. And then I remembered my good friend Terry Turner said he had an old Vespa. I guess he did. His 1960 Vespa still has the 1962 Maine license on it that it did when he put it in storage. It hasn't run since then, but we thought it made a great lawn ornament in our Maine Piazza. In an interesting twist, the original owner of this fun artifact was another long time, friend Bill Goddard. He does our insurance and has an office a couple blocks from ours. We invited him over for a surprise reunion with this piece of his past. He didn't offer to insure it just yet!
And, bombing or not, we are leaving Saturday and flying straight to London. Changing planes there and continuing on to Rome, Umbria and then, a few days later, London, again. Our daughter Wiley is graduating from college in London that next week and we are going to celebrate that event and honor all her hard work, come heck or high water.
But if you will be in Umbria next week we will sign off for the moment and say . . .
See you in Italy,
Stew