If you are like us, you get a taste of Italy and you don't like letting go. We just got back from Italy but some part of us feels that we're still there basking "Under The Tuscan Sun."
But! Did we tell you we're working on a way to stretch out that "being there" feeling? That's why we're helping start the first ever Italian Life Expo in Portland, Maine. June 9-11th at the Ocean Gateway right on the harbor, across from lead sponsor Auto Europe's world headquarters.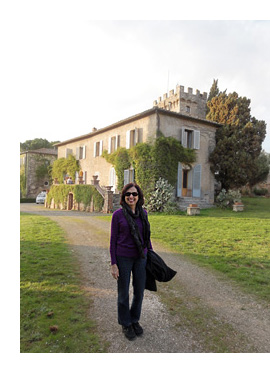 Dozens of exhibitors including generations-old, but undiscovered family vineyards from Lake Garda to artisans in copper from Montepulciano, prosciutto and cheese makers from Parma to tour operators from Siena, so many shiny objects to hold your attention.
Here's Midge outside Spannocchia who, with Institute for Italian Studies, are lead presenters of the Expo. One day last week, after this picture was taken, Midge, Paul Turina of Turina Italian Wines, and other board members went into Siena for a festive dinner at Antica Osteria da Divo by Chef Pino di Cicco. Everyone came back raving about him and counting the minutes till they could see him again at the Expo.
Good times coming. If you are in New England this June, the Italian Life Expo may be your ticket to Italy. It's never been closer.
Tickets go on sale this weekend. Check it out.
See you in Italy!
Stew Vreeland