Finally. It is my turn to pack up the laptop and head off to the airport. Pilot, head this rig east to Italy! Can't wait to see daughter, Wiley. She is the legendary Wiley Traveler. Anxious to see what adventures she has had. And together see all our old friends and new property listings! What to do, what to do? Dinner at Masolino's first? Or coffee and hot gossip at Aldo's? It is like the old Seinfeld program. A show about nothing. We never know what a trip to Umbria will have in store for us. I always try to stay open and flexible but things always flood in from all sides, time evaporates and I will be back on a plane headed west long, long before I will want to be. But, in the meantime, I fully expect to enjoy every moment to the max.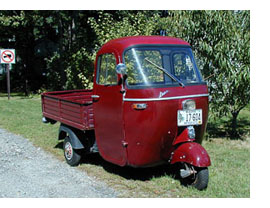 Oh, I have to share this. No, this is not a photo taken on a back road of Umbria. But just something designed to give me quantum nostalgia for the back roads of Umbria. A perfect little purple Ape, separated at birth from its homeland and somehow, someway transported to an apple orchard in northern Maine? I slowed down, shook my head and turned right around on a side street in Portland, Maine when I saw this beauty. Vintage 1969. And who knows why they call these Apes and their cousins, the motor scooters, Vespas? You in the back. That is correct. It is because of the sound they make. Like Bees and Wasps, those Apes and Vespas buzz up and down the streets of Italy. And at least one street in Portland.
Allora, if you will be in Panicale in October, we will wave madly, and say . . .
See you in Italy!
Stew