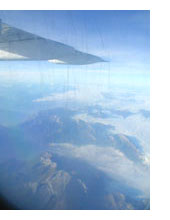 Leaving on a jet plane. Yeah. All systems Go. Going. Gone. We slipped the gravitational pull of Logan International in Boston and a couple random movies and rubbery raviolis later I was rushing through DeGaulle in Paris. Shortly after Paris I was up in the air over the Alps and the next thing I knew I was getting into a taxi in Chiusi, Italy and saying "Panicale, per piacere". I found Wiley! She looks great, the house looks great, even in the cloudy rainy weather. I managed to stay up till real Italian dinnertime to get on myself sort of on Italian time and then we treated ourselves to dinner at Masolino's, next door to our house.
They had a table reserved – in case I wanted to come – because they knew I was landing that day! Can you believe? Andrea pointed to a table for two. And says I put you right by the heater on this cold night. Really? The little gold "Reserved" sign is for moi? Kind of choked me up. I feel the love. I feel the love, praise the Lord, we have made it to the Promised Land once more! We ate the food, we drank the wine. I came home, fell into bed and slept the sleep of the seriously jetlagged. Except for a few minutes in the dead middle of the night. Where the heck am I? Did I say it was raining? It took some doing waking me from the coma-like state that I was in. But this was a wild and wooly midnight gully washer. Very freaky Friday weather this fall. We were here all last September and it was shorts and tee shirts in the garden till sunset everyday. Into each life.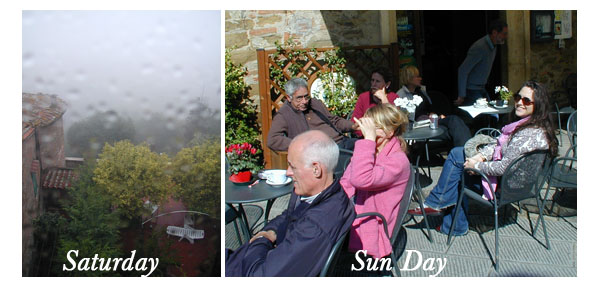 But that was Friday. OK, that was yesterday too. But Today is another day. It is literally Sun Day in Sunny Italy. Sun on the rooftops, sun in the sparkling raindrops still hanging on the tip of every tree leaf. Sun in the Piazza. And, why there's my daughter in the Piazza too. We had cappuccinos and watched the world go by and then had them all over again. And then, the bells began to ring and the village church at the top of the piazza poured a lava flow of wedding goers out and over the sun drenched piazza. We had to think All is Right with The World. I may even go home and garden for a while. I think I will.