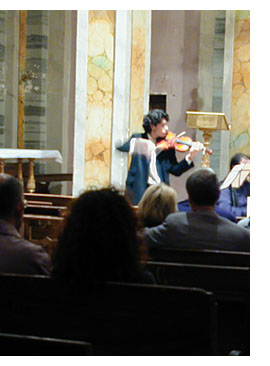 CHIESA MADONNA DELLA SBARRA, PANICALE, Umbria—ok, work with me and know that I Am The Low Tech Guy – in a high tech world. But, I like to get right in over my head and get fun digi toys and I have a new one here in Italy with me now. It is a tiny, thumb sized recorder that records, plays MP3s and like a regular thumb drive it can transfer files up to 500 megs! What Ever a meg is. Anyway, after a dinner at the Burnt Goose in Paciano, Wiley and I arrived at a concert, late, slipped into a side pew just inside the door, waved furtively at Steve and Jules in the back row. They must have come in almost as late as we did. We snapped a couple photos, don't worry, no flash and then started this test recording of the concert. It starts out a bit scratchy, but I tried to edit it for hours and said, you know, that will be another day. It gets fairly nice if you advance it just a bit.
The concert was in the baroque church at the end of our street and this bit of of the concert is a piece of the ever popular "Le Sonate di J.S. Bach per cembalo e violino" I did not know the word cembalo but it sounds quite a lot like a harpsicord to me. See what you think.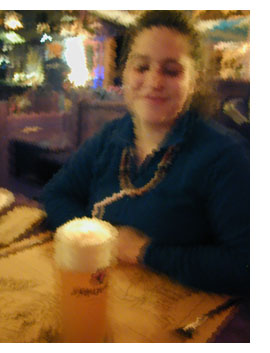 INTERNATIONAL HOUSE OF PIZZA?
PINETA, UMBRIA—Oh dear Heavens, it is Oktoberfest time in Umbria. And you know what that means! Actually, considering, you know, WW2 and all, I guess I'm surprised Oktoberfest gets much of a celebration but, yes, Pellicano's Restaurant has a month of fun planned for you here in Pineta, just outside Castiglione del Lago.
Pellicano's is where we first fell to the gastronomic low of having French fries for a starter course ahead of the pizza course. We keep saying Oh we're on vacation. Lets live a little. Ok. Declasse. But these are seriously good fries. So good we don't ask how they make them but surely they can't be this good tasting and still good for you. And they come to the table so fast its like mental telepathy. Think the thought, barely verbalize it, and in seconds you are eating your words, in what feels like one fell swoop.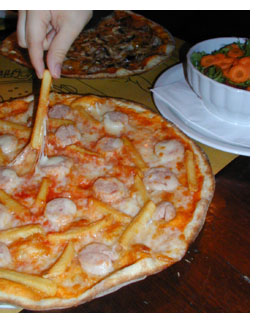 I really can't think what first got us in the door the first time here. Other than we do drive by it going back and forth to Castiglione del Lago. Its right on the edge of the road in full sight with throngs of people eating outdoors at covered picnic (peek-neek) tables in the summer, and a full rigged, actual ship in front of the door all year round. On the weekends the road itself becomes an extension of their parking lot as it is packed with young revelers in the upstairs music lounge. Not quite crazy enough, brave enough, young enough to aspire to going up to The Jackel on a Saturday night.
The first time we went in Pellicanos I am quite sure we were all the way inside the doors before we realized it was a Scottish pub. Surely, we wouldn't have knowingly gone into a Scottish pub in the heart of our beloved Umbria? But, yes. Yes, we did and yes, there really is Tennent's Lager on tap. Which, strangely is beer. Which is not the national drink here. I think it is usually considered that stuff made out of the grapes we drive by all day long. But the beer is here and it is flowing out of the spigots at a prodigious rate.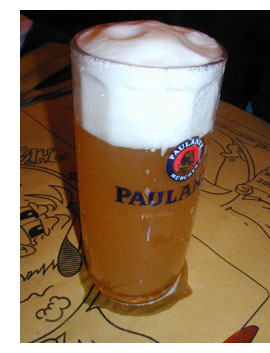 So the whole thing seems totally wrong and out of context but it is a fun and guilty pleasure to go there and pagans that we are, no trip to Italy is complete without a Pellicano's fix for us. And the woodburning oven pizza is thin and crisp and consistently great and creative choices. And Choices! Pages upon pages of Choices. One time I ordered the extra spicy sausage pizza named The Serpent and imagine my surprise when it came shaped like a snake with cunning olive eyes.
Tonight's special was interesting, maybe not up there with the Serpent, but still fun. This American tourist found himself telling the black t-shirted Italian waitress that he wanted the German braut and French fry Okoberfest pizza special. And the beer special to go with it please. The pale, pale German ale: Paulaner Oktoberfest Bier. What a head it had on it. What a Magic Moment, overall. Ah yes, we are living "la dolce vita" now. Just made me want to climb up an Umbrian hilltop with a few hundred friend, hold hands and start singing "I'd like to buy the world a Coke, and teach it how to sing"
And come to think of it, that is how we ended the night. By the time we got our stuffed selves back to Panicale we felt the need for a forced march around the town walls, twice, and then we made a stop at Aldo's for a Coke to help "digestivo un po" all this World Cuisine. One more lap and then it was home – to think about what we've just done. And promise never to do it again. Until the next time.