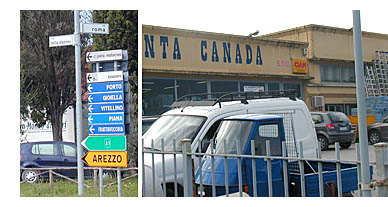 CASTIGLIONE DEL LAGO, UMBRIA— We go right into high gear on quarterly garden maintenance today. Communing with nature. I haven't been here for three months so we're talking about a garden of a rather overgrown nature, but I look forward to digging right in. Weeding? Sign me up. Pruning? Good for me and the roses. Cleaning up the goop that fell out of the fig tree? Arruhgh. What a mess. We seem to have like the Exxon Valdeze of fig trees. It is making black and greasy goo all over my paving stones at that end of the garden. And, it is disgusting to attempt to un-pollute the area, but we are rolling up our sleeves and jumping in.
Now, I like a fig now and again. Ma questa non vale la pena – certainly the not at all worth the hassle this year. Figs were awful. Mostly due to excess rain washing over them day after day when they were supposed to be up sunning in the branches. This year they just got waterlogged, swelled up, split into three angry pieces and kurplop. Thank heavens we only have the one tree. Wonder if Mr. Fig Tree knows we have a new woodstove?
As usual with any good project, within no time at all we have used every tool we own doing the job but soon have a need for yet something else from the hardware store. Today, that something else is black plastic bags. Body bags for the fig goop and fig branches I'm whacking back wildly. Road trip? Hardware is the one thing Panicale has very little of. I bet if someone would open one in town, before you know it we'd have three, but right now we are hardware-challenged and this looks like as good an excuse as any to drop down to Castiglione del Lago and its famous Edil Feramente CANADA hardware store.
The storeowners are Italian, but lived in Canada for decades. When a project gets over my head often the vocabulary fails me in English, let alone Italian. How often would you need to say thingamajiggy in Italian? That is what I thought too, so I never buckled down and learned that word or a million other manly tool words. Drill bits. When would that come up in conversation? One of those scraper things that holds double-edged razor blades. What the heck DO you call that? Whatever you call whatever it is, when I have no earthly idea what I'm doing, I get lazy and treat myself to a bit of Canadian English. In times of stress, it is fun to have someone who speaks your language, plus this is a big, clean hardware store with darn near everything.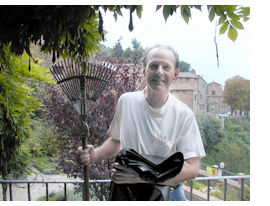 We're off for simple things today so it doesn't matter if the Canadians are on duty or not. They aren't as it turns out. Ah, good. We got the nice guy with the big mustache for our clerk today. Bags for garden trimming? Biiigg ones? Strong? Sure, we got'em. How many kilos do you want? Kilos? That is like pounds of bags? So, THAT is what the problem has been. I have had a heck of a time finding bags. I'd ask in a grocery and they would say, Here, you can have this one. I'll get another one. But then they wouldn't sell me one. And I'd leave with the one bag, scratching me head and wondering. So, ok, I need two KILOS of plastic bags. And now we've got scrub brushes of three sizes to work on the fig poop on our garden walk and decide to ask if there is anything stronger than the dish soap we've been using? Has chemical research come up with anything that will clean fig off stone? And maybe, if we are lucky, accidently kill the fig tree in the process. And yes, yes it appears there is. And her comes a lovely, unmarked, gallon bottle of it. With a handle. And you'll be wanting gloves with that, he says ominously. Yike. Careful what you wish for I guess. And he adds, I wouldn't be opening this indoors either. What the heck is in that bottle? Ok, I'm buying it. But I'm not anxious to be using it.
THE FLYING EAR OF CORN COMES TO UMBRIA?
Paying up, I see the man next to me has a Dekalb Seed Company vest on. My parents from Iowa wouldn't be surprised to see that in middle America but I am. Here. OK, I have to ask. No, no the wearer says. Regular brand. See it everywhere here. Especially around Perugia. Really? It's a clothing line?

I looked Dekalb up on the web when I got back and this is not a fashion forward thing. The site was full of earnest boilerplate copy about Rootworm Soybean Variant, Conservation Tilage, Agricultural Scholarship and, personal favorite, The Monsanto Pledge. I can see the AG Chemistry Geeks with their short sleeve dress shirts and brown ties and hand over heart reciting that beauty. I couldn't even figure out how to get a corny ball hat out of them and this guy IN ITALY has an actual vest. He was nice enough, but he was clearly surprised – that I was surprised. It was just too banal to him. He couldn't imagine my interest. Ma, si! Seed corn! Iowa. Italy?
If I live to be a hundred . . . You know, I bet, there's some wild-eyed marketing/branding guys involved in this somewhere.