This is a bit dizzying. But there we were, at an awesome San Salvadorean hideaway in Portland, Maine. (Tu Casa is a Wiley Traveler Discovery. Thank you Wiley!) Eating melt-in-your-mouth, IncredoTamales, washing them down with Horchatas and watching Spanish ESPN. Women's billiards from Albuquerque, NM. You saw that one? At a commercial break, they were showing a promo for the upcoming European Champions League Finals . That would be Soccer. The match between the Arsenal Gunners (UK) and the Barcelona team, in Paris. MAY 17th I believe. I knew it was Arsenal because I recognized the jerseys in the promo. Why? Because I have one! Wiley's friend gave it to me. As Wiley pointed out in her travelblog, Daniel works for Arsenal He, and everyone that works for Arsenal, will be in Paris all expenses paid. Big times afoot in Pareee.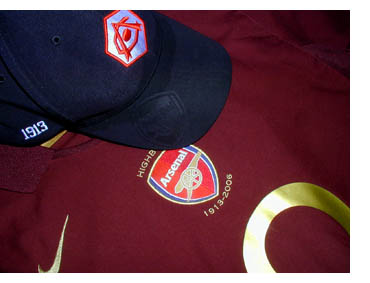 Which reminds me. This continental stuff must be rubbing off. See that thing about soccer? Yeah. That was me? Talking about Soccer? Still can not bring myself to call IT football. Real football is Boston Patriots and whoever they are playing any given day. Soccer just confuses me. For example: Barcelona got to the finals by, what seems to be, a typical-of-soccer winning score. They played Milano to a barn-burning 0-0 tie. Huh? The part I did understand is that all-expense trip to Paris part.
Daniel gets back from that trip just in time to get on another flight to Switzerland where he and Wiley will be going to her school's 50th anniversary party. The American School in Switzerland was a big part of making Wiley who she is today. We let the baby Wiley Traveler go off to Lugano when she was 14 and she's never been the same. In a good way.
By the way, if anyone has ever seen or heard of a more beautiful school or location that this one, please let me know. TASIS (psst: some good photos on the link there) is a hilltop collection of villas overlooking almost tropical Lugano. Its palm-y parks and gardens run the length of the town along sparkling Lake Lugano's shore. And the background for all of this? Snow covered alps rising straight up out of the other side of the lake. Purple bougainvillea, green grass, blue lake, white snow – all add to the shock value of lovely Lugano's palette of pure, rich, bright colors. And the best part of this part of Switzerland? This is the Ticino. The Italian speaking province just one town north of the Milan airport. It goes like this: you get your rentacar at Milan's Malpensa airport, steer it north, through Chiasso, immediately cross the border and you are in Lugano. Absolutely nothing like Milan. Milan inside out is Lugano. BizzaroMilan as Jerry Seinfeld might say. They are close, geographically, but a world apart. If you have to do a high school reunion, this is one great place to hold it! Mine would be in Conrad. Conrad, Iowa. Corn on three sides. Can I come to yours, Wiley?
No? Well, OK, but we will soon . . .
. . . see you in Italy! (12 days and yes, still counting)
Stew