PANICALE, UMBRIA — A world away that always feels just like home. How does it happen? Wiley and I arrived in Panicale just as the town prepared for Tuesday evening supper. We ate on the balcony at Masolino's with friends from Hawaii who may soon be neighbors. They already had a favorite local wine, Boschetto, and enjoyed the mouth watering medallions of pork with the chickpeas that always please.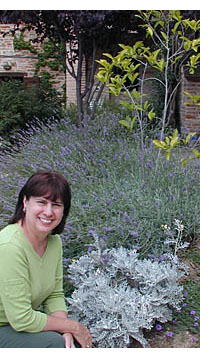 As daughter Wiley prepares to spend an extended period of time here — more than any of us ever have at one time, there is always something new to consider. Will the supplies we have work well, or will she find a million little things she needs? Well, the first thing we got for her is an Aldo Bar charge card! That way I know she will head to Aldo's for her daily caffeine and meet all the neighbors! Today we saw Jurgen who said we "had some work to do on our garden&rdquo . . . ! Wiley and I came back to look, but it looks great to us. Wonder what Stew would do?
Allora, ci vediamo. We are off to make some phone calls, as there are several fun house hunters here in Italy now. And we also want to wish our friend Daniel in England a Happy Birthday. Soon, he will be enjoying Panicale in person too!
Ok, see you in Italy,
Midge
—————-
Note from Stew: Midge is just now back. I kept waiting for photos from my own Thelma and Louise team, but as The Wiley Traveler said "We were having too much fun to take photos, babbo!&ldquo Oh, sure. That old excuse! So, this is a photo of Midge from summer vs September. Wiley says she is going to be right there so she is taking action in the garden. We'll make Jurgen proud!