PANICALE, Umbria— In the previous blog (below, scroll down) I wrote about my intention of seeing the Folk Traditions Center in Citta della Castello this fall. OK, fine. But what else will there be to do in Umbria during the season? Wait till your see the list I just got in an email from our good friends Francesco and Alison at Umbria Rentals. You will be in shock how much there is to do — just in and around the town of Panicale. This Umbrian Calender of Events, below, is totally typical of the level of cultural activity there in every town all year round. At some level we know that. But to see some of it all written down in one spot, it does seem overwhelming. They have waaaay too much fun there. As my wife's sweatshirt says "Life is Too Short Not to be Italian". Of course, like most Vreelands we are not Italians, but just forever wannabes.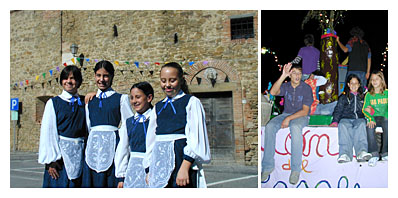 Francesco's web site, from the very dawn of the web era, was the reason we first "discovered" Panicale and shortly thereafter discovered we could not live with out it. As the Eagles said in Hotel California: We could check out any time we wanted, but we could never really leave. And sure enough, the next thing we knePANICw we were buying a house. So, beware. Umbria may be habit-forming! Here is their autumn 2005 calendar:
———————————–
September 10, 14, 20, 24
Moliere's The Miser (L'avaro, Panicale's theatre)
Ever wondered what it is like to be transported back in time a few hundred years, take your place in the box of a 18th century theatre, restored to its former glory, and enjoy a few hours of comedy by Moliere with Panicale's theatre group. This is not to be missed!
September 11
Renaissance Music, San Sebastiano Church (Panicale)
Come and listen to renaissance and baroque music enjoying in the San Sebastiano church, where typical background curtains have been replaced by a fresco by Perugino, himself.
September 15 – 18
La Festa Dell'Uva (The Wine Festival, Panicale)
This is another event not to miss, as the various quarters of the town (neighborhoods) compete to make the best float as they give thanks for the years grape harvest. Parades are on Friday night and Sunday evening. As you may imagine the wine flows and the evening feasts are plentiful, so book your tickets early.
September 18
Paciano e Sapori (Tastes of Paciano, Paciano).
At a five minute drive from Panicale, Paciano has its own food festival, specialising on tastes of the palate –Food and wine, that is.
September 20
Classical Guitar Concert, (Panicale)
A locally organized String Guitar concert will be held on the theatre.
September 24 –25
Festa Dell'Agricoltura (The Agricultural Festival, Panicale)
If Umbrian farming interests you, you can find out all about it here as the latest technology is proudly on display and stalls are set up with local produce.
September 25
Concerto Iberiano, (Iberian music concert, Panicale)
At 9pm, in conjunction with the agricultural festival, do nor miss an Iberian music concert with music and instruments from the 900s. It will be held in the charming St. Agostino church.
September 28
Concert of Organ Music, (San Michele Church, Panicale)
At 9pm, come listen to Francesco Cera, one of the best organists in Europe take over the San Michele church with his music.
October 1
Voci e Strumenti (Contemporary music, Panicale)
A concert of contemporary music for voices and instruments will be held in Panicale's theatre at 9pm, blending in modern sounds in ancient settings.
October 1 –8
The Festa Della Castagna (The Chestnut festival 1, Piegaro)
If you can't make Panicale's Chestnut Fest then you can eat chestnuts and drink Mosto a few days earlier in nearby Piegaro. Two festas no waiting.
October 23
The Festa Della Castagna (The Chestnut festival 2, Panicale)
This one speaks for itself. The fires are lit and the chestnuts shared around amongst friends with the Mosto, the fermented grape juice which is used to make wine.
* Special Offer for Last Minute Bookings
Between now and April 2006, we are offering everyone who books less than 4 weeks prior to arrival a 10% discount on our rates, with prices as little as 388 Euro for the first week. The condition is that the whole balance is paid in full when booking. The offer is not valid for the Rocca, which has an excellent last minute discount, or the Masolino Hotel, which already has ridiculously low prices. To see our last minute availability, check out our calendar at :
Umbria Rentals
Combine your stay with one of the winter events described in this news letter taking place where Umbria, Tuscany and the Lake Trasimeno meet.
* Special Offers for 2006
We have now started accepting bookings for 2006 with some apartments filling up fast! We will be raising the prices on some of the properties for 2006, but for all bookings made prior to November 1st 2005, we are accepting this year's prices. Low season discounts of 20% up to April 9th 2006, and starting again October 15th 2006 are as always in place. On top of that, for all seasons, there are incremental discounts ranging from 10% – 50% for stays longer than a week. Visit all our short term properties at
Short Term Umbrian Rentals