Have you seen The New Yorker? Big, engaging article in Sept 5th Food Issue about our corner of Umbria. Very interesting story focused on the people who have a Folk Traditions Center just outside nearby Citta' di Castello. Article is called "Renaissance Pears. Saving the fruits of the Medici". They research Renaissance paintings of fruit –"Natura Morta" – (interestingly, we talk about "Still Life paintings", Italians say "Dead Nature" paintings. Ugh. Who was the copywriter on that one?) and they try to find trees that still bear that fruit today. Sometimes, there will be one tree in all of Italy left. Or worse, just someone's memory of one. Before the war there was tons of diversity, now there is much less. Everyone moved off the farm and into the city after the war.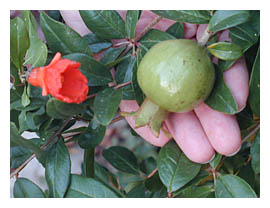 The founder, Livio Dalla Ragione, was a decorated partisan hero during the war and a well known Roman artist after the war. Today, his daughter from Perugia runs the center and works the orchard of hundreds of trees herself. They also rescue ancient tools and other vestiges of rural farm life. But it sounds like their real passion is rescuing the fruit that is quickly going extinct in Umbria in the last 40 years. They say they want to save not only the tangible symbols of those days gone by, — but the actual smells and tastes as well. Today everyone eats the same boring two kinds of apples and three pears etc that they find at the supermarket.
I was very taken with the article and the concept and I'm definitely planning on going in October to see Livio and his daughter's collections. Yes, i know this is a photo of my entire pomegranate harvest last September. It is holding a place for a photo from the Dalla Ragione's orchard when I go there in October.
Ok, that's the cultural and agricultural news for now. Tune in tomorrow for a complete list of Fall Activity in Umbria!