9 AM PANICALE— what is that ringing in my ears? Office on the phone, ok. Wait still ringing. Door bell too now. How often does it do that? But it is good fun, while I am still on the line, Midge comes up from the door waving a bottle of wine with a box of Bacci chocolates tied to it with festive gold bow. From the sweet, pretty lady who makes the house sparkle. Why did she do that?
She leaves and the door bell rings again. Hey. I haven't even had coffee yet. It is Bruno. Cerco Stee—oou. Do we need wood? Heck yes, thank you. Cold spring this year, but we have a fine, fine, mighty fine woodstove. Thanks to Bruno for that, too.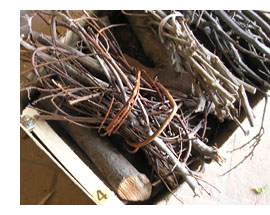 We do not deserve friends in a foreign land that would think about us. And act on the thought, too. Five minutes later, Bruno is back, the rear of his red Fiat loaded with wood, split and laid out in neat, stackable wooden boxes. Kindling tied up with a piece of grapevine. And a bottle of his own white wine that had a fair chance of being grown on that very vine. Grayson says Look, Dad. No label. Well, sure. That is the good stuff. And the cherry on top? Bruno says The his ciliegi are ripe (actually, the say mature) in his yard, and we should come sometime this weekend. Might just do that. Hope I do. So much fun, so little time.
HAPPY TRAILS, SNAILS
Later that night, reading quietly by the fire. A sharp BANG. Oh well. I look around. Nothing else transpires, so I continue reading my book, totally engrossed in the life of that quintessential bad boy of the Renaissance: Carravaggio. Ignoring the noise that night cost us our primo piatto the next day. The meat dish ran away. We'd been daily washing and rinsing and feeding herbs to our big garden snails. For several days, almost a week. Lumache on their way to becoming escargot in garlic butter.
Evidently, the big bang was a cat tipping over the heavy lid of the collandar of snails on the porch. By morning, all but half a dozen slugabeds had "run off". So, it was like a week at the spa for all of them. Sorry to have missed out on doing the whole process, all the way through, with Wiley. We had people invited for lunch and everything. Peccato. The last batch was great that she had ready for us when we arrived. Who knew you could freeze escargot from your garden. Oh, we are living on the culinary edge now.
IN A HAIRLINE
The next day: yawns, bright and early. Sunlight streams in the window (I left it unshuttered for that very reason) and it wakes me up and it pulls me out of bed, vacation or not. Must be first in line at Biano's for my long, long overdue haircut. Quick, shave, grab Carravaggio and go off at a trot to the piazza. Whew. Non c'e nessuno. Found a sunny spot on the stone bench hard by the door to Biano's. Not too much sign of pidgeon poop. OK, OK, I'll sit here. The town is awake and from Google Earth probably appears to be a proper anthill. People pop out of one door and scoot into the next and back out again like a stop action film. One pair of frisky ants was Linda from the grocery store and the lady butcher from the across the street.
The two of them are making a bee line past the fountain, towards Aldo's cafe when they spot me and wave me to join them for coffee. Oh, no. Grazie mille, grazie mille. Can't loose my place in line! Biano is an hour—plus process. Get out of line and there goes the day. So. Sorry. They duck into the bar without me and two seconds later, from the other corner of the piazza comes Linda's husband, Bruno. Stew, vieni, vieni per un caffe. Ok. We've been through this. No way. Not deserting the post. Where IS Biano? It is 8:15 already. Giaccomo, sitting outside the cafe, says I'LL watch for you and hold your place in line. Dai (comeonalready), come get a coffee. But, don't leave me too long, alright?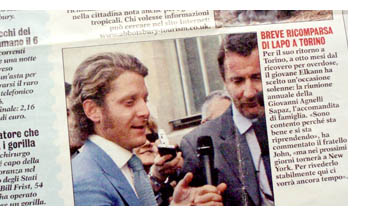 Zip in, order coffee, apologize to Linda for taking her husband's offer and not hers. Thank you Bruno! Yike! Why is the coffee so HOT today Daniella. The one day I want to gulp and run. Seared throat and all, I'm back out in the piazza where Giaccomo sees me and points back over my shoulder at the late Biano. There he is, there he is! What's this? Cunning Adelmo is between me and Biano's? Crosses his arms and says I'm First. Oh, no. Oh, yes he says Got here at 7:30. Good grief. The rascal is teasing me. Chee. Biano has been wondering when I would give over my mop to his control. I've got a folded up photo of the decadent, and nearly deceased Lapo Elkman from a gossip magazine called "Oggi". Fine role model, Stew I'm thinking. We study the bad boy of Fiat's photo for a minute, Biano claps his hands, and says No Problem. We can do this. I am an architect, I can build the kind of structure you want. And he did.
Love being at Biano's. We talk of many things, of shoes and ships and sealing wax. And cabbages and kings. And Vespas and Ferraris . Sitting in the other chair is a older guy, looking out the blinds at the piazza, just observing the scene or reading the pink sporting newspaper or chiming in every now and then, when a subject arouses him from his thoughts. He's not here for a trim, just for the company. I'm in for both.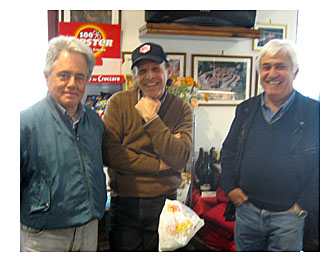 In the photo, that's Biano on the left, some lost Americano, and then Bruno on the right, in the café. Why do I have a plastic bag tucked in my pocket? And yet still let people take my picture? Found a plant in the garden. Weed or not? So I tucked it into a bag, trucked it into the piazza and got opinions one way or the other from anyone I found wandering about. Yep. Weed.
BACK ON THE STREET
Bruno is still unloading and organizing groceries into the storage room of his wife's store with a hydraulic mini fork lift. Somehow, we get on the subject of my son, Zak, who is the Invisible Man as far as Panicale goes. People know of him and know he can't come just yet, Fear of Flying etc. But he did get to visit a bit of Panicale when he met a Panicalesi friend's daughter in New York, thanks to our meddling slash matchmaking. Now she is back here and we spoke in the piazza this morning. Bruno and I agree she is a complete angel, like lovely saint in a painting. Bruno theatrically wriggles his eyebrows like Groucho and says Her Momma's not bad either. HEY! WHAT ARE YOU GUYS TALKING ABOUT DOWN THERE? We look around and then, we look up. So. That's where Adelmo's house is. He's hanging out a window and hanging on our every word eves dropping on us. Oh, girls, we say. He says, oh well, I would never do that. Talk about girls. I have the most perfect, the most beautiful wife in the whooole world. She's right there, isn't she, Adelmo? (We had to ask) He nods vigorously, Bruno and I laugh and go on about our alleged business. I can't really say why but these mini moments are, to me, worth the plane fare by themselves. Call me easily amused, call me crazy, just call me when its time to catch the next plane to Italy . . .
See you in Italy,
Stew