Well, it is obvious now. I am really and truly reaching for Italy-related stories. Daughter Wiley, the Wiley Traveler, is leaving for real live adventures there next month, but I can't go for a few weeks after that. Totally reduced to day dreaming and going through photos and helping friends plan trips there. And reading every book ever written on the subject of Italy. You should see how many books we have here in our house. We've had to put all the Italian themed ones in one room and they fill all the shelves there. Books, brochures, maps. Ok,the Library at Alexandria it is not, but it is pretty deep in there.
Here are a couple I've just added to the book shelves of our "Italian room" that show how wrongly eclectic we are, even within our Italian reading.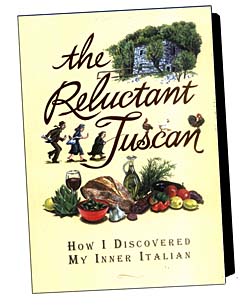 THE RELUCTANT TUSCAN
This first book is a bit of a surprise. Most books about moving to Italy and restoring an old house are so romantic and staryeyed you may want to spitup. I was beginning to think it was required for the genre. The author of Reluctant Tuscan, Phil Doran, clearly did not get that romance memo. He is the RT of the title and a smart mouthed Hollywood writer for TV shows. He was drug, kicking and screaming from LaLaLand to LaDolceVitaLand and just being himself he quickly runs afoul of his wife, his neighbors, and the town officials. He's surely a better writer, than a neighbor. Actually, it's a relief to hear a non-romantic version of the classic "moving to Italy" story.
Oh. Sorry. You wanted Romance?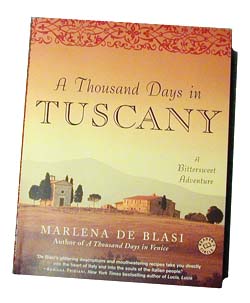 HOW SWEET IT IS
At almost the opposite end (that would be towards the Saccharine end) of our book shelves would be "A Thousand Days in Tuscany" by Marlene de Blasi. Like Frances Mayes (Under The Tuscan Sun), Marlene is writing in and about our neighborhood. Mayes is just north of us in Cortona. And de Blasi is south and east of us in very nearby San Casciano dei Bagni. We are in Umbria, both of them are in Tuscany. They both are American writers with brand spanking new Boy Toys. And compulsive need to Cook and Tell. And boy, Marlene will tell. And not just about cooking. Maybe her new fella Fernando doesn't read English, I don't know. But if he does, he now knows she doesn't fight fair. She mines every fight they have for all its literary worth. And then she writes about the makeup sessions. I just go by all the soupy stuff. And speaking of soup, i do just breeeze by all the recipes at the end of every chapter. Of any book. What is that about? I'm reading along in a novel and suddenly I need a recipe for "Deep-Fried Flowers, Vegetables, and Herbs"?
So there's that. And she does want to tell us EXACTLY what she wore on any given day. Where writers I could relate to in a meaningful way might say "then I went to town" she would first tell you what she wore to town: "Twill jodhpurds, riding boots, a white lace shirt, its collar tight and high as my chin, a soft leather jacket the color of sweet wine, my hair pushed up inside a brown beret." Wait, wait. Did anyone ask what you wore to town? Having said all that, she is an amazing writer and wordsmith and I'd read her again I suppose. Mixed in with all the frilly stuff are some evocative observations of everyday life and food and fun and festivals. And hey, she's a neighbor. Must be supportive. She also has a book on Venice. You guessed it: 1000 days in.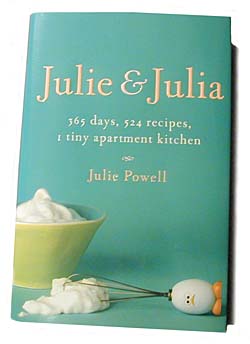 SPEAKING OF COOK BOOKS?
Have you read Julie & Julia? Fair warning. Absolutely less than nothing to do with Italy. But I'd heard it had a blog theme. I kept reading about it, seeing great reviews, etc. The Julie of the title (Julie Powell) did a cooking blog where she attempts to cook every one of Julia Child's 600 recipes in her original 60's cookbook classic. In a single year. Even the goopy stuff only sophisticated continental types could possibly keep down like calves brains, tripe, marrow, the whole works. In whatever grisly order they happen to fall in the book.
So, I was thinking: Hey, my mom cooks. My mom has a Julia Child cookbook or two. She reads blogs. Well, I think she reads this one anyway. Why not get her this J&J book? Which is what I did for Christmas. Had it gift wrapped right at the store and sent it on its merry way to I-O-way. Without opening the book. Well. Here's a Helpful Holiday Hint: don't ever DO that. No, no, no. See the cute cover? And note that it seems to be a cookbook? I KNOW. Me, too. What I did not know, until 2 months after I sent it to my sweet, 85 year old, Sunday School teaching mother was this: Julie, sweet 29 year old Julie, swears like a tattooed sailor being led down to the brig. And even when she's not swearing up a storm, she talks about stuff I would not go near. Not with nobody. Let alone my mother! Even allowing for all that, I have to admit, Julie is one laugh out loud funny funny funny writer. Hysterical. Sometimes, literally hysterical.
ENOUGH WITH THE BOOKS ALREADY
Lets talk booking reservations. Lets talk travel. Calendars seem to say Midge and I may get to go in May. And the Wiley Traveler should be traveling even sooner, in April. So soon, very soon, we'll all be saying in happy unison . . .
See You In Italy!
Stew