PANICALE, Umbria, Italy– Competitive Saturday morning. Even though it is way early, we're jockeying for position at Biano's. Women have several choices in town but guys pretty much have Biano. And here he comes with the newspapers under his arm right now. He turns his head away from the even earlier bird and mutters "We'll get our coffee in a minute. Or we can just go now?" I wave him off and tell him to get to work, we'll do it another day. I was so glad to be here that even being number two couldn't mess with my Zen attitude. And strangely it paid off because it gave me plenty of time with La Nazione. There in the Umbria section, the whole front page was covered with photos and news of the flower petal art display going on in Spello the next day. Never been to Spello. Its streets appear to be filled with elaborately detailed mosaics of religious subjects all done in flowers. Must do this. Right after the trim. Hey, I needed that haircut didn't I? Ok, ciao, ciao. Time is predictably flying because even having a early morning haircut is fun. Tourists. So easily amused.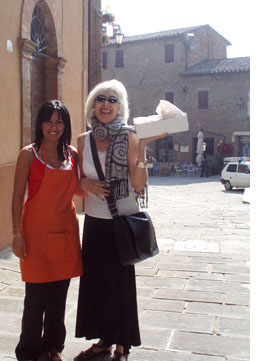 PASS ME DOWN THE LINE, PANICALE
Leaving Biano's I head home (go left) even though like Moses, I can smell the coffee in The Promised Land, just across the wide piazza (to the right). I'll go get the girls up and come back with them. I told you I was feeling Zen. Friends before coffee? Where did that come from? Bronzed goddess Daniela and I fall into step together and do the usual weather chat. What I really want to say is How DID you get that tan? She seems to be in Bar Gallo all the time and always fresh as a daisy and dressed like a perfect fashion model. When does she tan? When does she shop? She peels off at a store and Linda takes her places coming out of her storeroom on one side of the street aimed for her store on the other. Arms full of vegetables in a plastic crate, hair flying behind her, she keeps moving but laughs and says over her shoulder, "We are all running down the corridors of the castello, no?" Well, yes. The town is so small, the walls enclose the houses that all connect one to the other and the "streets" are narrower than most office hallways. It is like we are all in the same building bustling about.
At home, I find that Kiki has gone to the bar because she assumed I would go there. She's doing that foreigner thing and getting coffee to bring back to the house. What will they think of us? So, I head back and find her coming up the street with coffee in a tray held waiter-like over her head striking a pose and interrupting her gossipy walk with the also amazingly tanned and fabulous Fabiola who works at Linda's. Again, when is the tan happening? No matter, we've got coffee to drink.

Luccia is our friend Nico's cousin. He designed our garden and she brought us wild strawberries she picked in the forest to plant in the garden. She and her sister are walking Denise home when they stop to talk to the three of us. Denise is Danish and we are American but its all non stop Italian, multiple conversations flying about, bouncing off the old stone walls. I'm talking to Lucci and as is often the case, with her she holds someone's hand while she talks to them. Clasps it, warmly, fondly in a way that you know she is focused on only you. We talk of many things but it always comes quickly back to gardening, flowers. We say we are thinking of seeing the Corpus Domini floral displays the l'infiorata in Spello. Is it worth seeing? In unison, three heads tilt back, all hands rise palm up and they all sigh "Ah, Spello". Evidently its ok. Earlier, after pizza in Paciano, we saw friends of Kiki's scrambling about getting teams busy drawing chalk designs on the sidewalks there but here in Panicale hours later we don't see anything happening. Will there be floral displays here too? Well, maybe. Depends. It is nearly 11 pm here and they will have been working since 2 in the afternoon in Spello the paper said.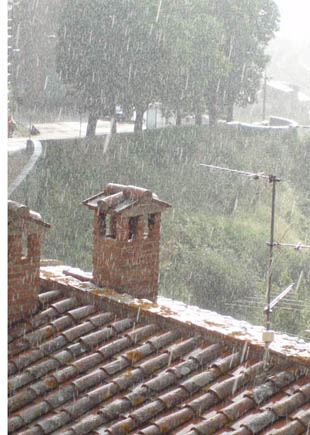 "Yes", Lucci agrees "It should be like that, but here we are just four cats." Siamo solo quattro gatti. What is with the magic number four? Quattro parole means short conversation and as always quattro gatti paints a perfect picture of deserted town piazza. We decide we need to see the display the next day. And see it in Spello. And hope that it doesn't rain tonight like it has almost every evening. Even if the sun is out when it rains like in the photo, it would still make mess of the displays in the streets. As we part, I agree to come see Lucci's terra sometime. Her earth. I say "garden?" "No, it's more than that" she says and her sister nods. "Come see". I will, I will. Sogni d'oro. Golden dreams.
QUATTRO GATTI IN FATTI
In the morning we three early risers slip into the piazza and there aren't even four cats. It is just our footsteps we hear on the stones. Last night, after a wedding, the piazza was a happy riot of noise and action and friends dressed up in party clothes. Hardly recognized Nico in a black shirt and yellow tie. He is a retired professor and a hardworking artist and I didn't know he had a tie. Molto chic. But that was last night. At Bar Gallo this morning it is just Aldo sorting sodas into the cooler and his wife Daniella serving coffee to the only customer: Biano the barber. Kiki and Midge cover him in compliments about my long, long overdue haircut. Maestro! Complimenti! Un Capolavoro! No, no he grins. I am merely a humble local artisan doing my work he says putting his hand near the marble floor to indicate his place in the haircutting world. And what is this? One more cat. Bruno with his Cheshire smile. Covered with paint. Aren't you supposed to be on vacation today? Yes, but my wife is hardly speaking to me, he shrugs. Could be all the better vacation the men all reflect sagely. I show everyone the window on the back of my camera where I've got a photo of the plant Bruno brought by for Midge.
HOW MUCH DOES THAT BOUQUET WEIGH, ANYWAY?

That cactus Bruno loaned us must be forty or fifty pounds of Stay-Away-From-Me-I'll-Stick-You-I-MEAN-IT plant. Piante Grasse they say here when they mean succulents like this. Or maybe just this kind? Not totally clear on that. This particular one is a big green cactus with long, eight inch flower buds. We have a really good sized one Bruno gave us years ago and it is ready to bloom. But his, even bigger one, is ready to bloom a day earlier and since he's going to Tuscany tomorrow and would be gone when it is blooming he wants it to be appreciated. We drove out to his house yesterday to pick it up. Driving back we were showing it to everyone along the way. And this morning it had bloomed and covered itself with pale pink stars as big as apples. So, here we are. Aldo, Daniella, Biano and Bruno. How lucky are we to know these one, two, three, four cats and have them all to ourselves this quiet Sunday morning?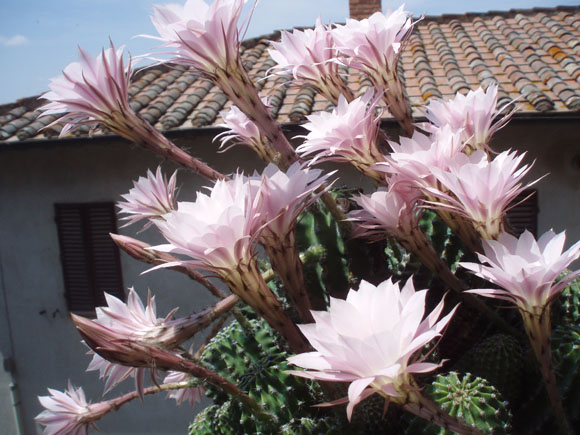 We thank Bruno for the flowers and Biano for the coffee and strike out across the still deserted piazza with purpose in our step. We are going to see yet more flowers.
The coffee paying thing is a fine game, by the way. They play it endlessly here and always act like it was their very first time. Biano told Daniela he was paying for everything when he saw us come in, before he said hi or anything. Quick as a snake. And when he saw Bruno come in, he said And Bruno too. Later, when we and Bruno try to pay before leaving Daniela points at Biano and Bruno grumbles Ma, no. Si, si. Grazie! It is an endless battle to see who can be the quickest and the most generous. Show up anywhere near the bar and you will be offered coffee. No coffee? Are you sure? Prosecco perhaps? But not this morning, we're off on a road trip.
See you in Italy,
Stew Vreeland