As Midge and Wiley get ready to head over to Umbria, I look back on our trip last September. Stories that I had not shared here yet. Just to give you a taste of what kind of unplanned adventures a traveler could expect to have on any given fall day in Umbria. Part two of three parts
PANICALE, UMBRIA — Having maybe solved the Great Australian Skin crisis, (see previous episode) Denise and Carla and I are free to discuss figs and some of the fine points of Carla's recipe for fig marmalade. Until that reminds me — I have a new batch on the stove — literally as we speak — and YIKE — have had for several hours! Hate to leave the sun and fun of the piazza but do rush home, turn off the long suffering jam and give it a stir or two.
While I'm there I'm home, I'm strangely transformed into something like a serial plant killer. I'm taking big fig prunings and runamuck wisteria's cuttings and frantically chopping them all into tiny bits and stuffing their mutilated parts into garbage bags, so I can sneak them into the town dumpsters with the trash. My friends here say that is a big no no, but what the heck else are you to do? Their consistent sage advice? Just dump it in the country. But I'm not so sure about that. I keep on bagging.
I've really been after the wisteria. This is one tough plant. It is bending the iron rods holding its frame work up. The iron rods. One is almost "C" shaped. So I cut that offending branch and pulled miles of connected vine out afterwards. Can't even tell where I was working and cutting, as it is such a big healthy robust and aggressive plant. The trunk is fully as big around as I am. The contractors cut it right to the ground, to be able to put a crane in the yard to work on the house. I was crushed. The next year they had to cut the wisteria off to the ground again as it was threatening to be The Wisteria That Ate The Three Story Tall Crane.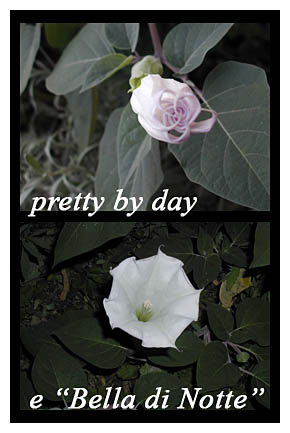 Wiley calls to tell me she is on her way home as she does everyday when she starts her inter-town hilltop hike. On the way back, she finds black berries on the side of the road and knows all their berry names now because she has a page of hand written school notes about just that subject. She takes that page out of her notebook and folds it up into a basket and gathers the berries to bring home. Berry poetic Wiley. She learned the basket-folding trick on Italian Kid Tv the other day.
We had lunch on the terrace, and now we are multi-tasking. Watching clothes dry. And figs ripen. At the same time! Sigh. Did i mention I'm in love? With a garden. All true. After a bit more of this post-lunch loafing, I attend to my little green friends for a couple hours, weeding and organizing, shaping climbing roses on the pergola etc. and notice it is getting hotter and hotter, but there is such a delicious September breeze that you'd hardly notice. Eventually, I do need a cool down moment and I give the "beach chairs in dappled sun!" alert to Wiley and we plunk down and read beach novels off into the early evening when the sun sets behind Montepulciano. Not long after that magic moment, the giant Bella della Notte plant unfurles a raft of new, white, trumpet-sized flowers. You know the best part? We didn't even PLANT that plant. It just showed up in our garden and now is as big as a Fiat car. As unplanned, but as welcome, as our days in Panicale.