This is another WileyReport. This was a lost file from last month's September Grape Harvest festival.
Today- I did two loads of dishes, one of laundry, spruced up the whole house, took out the trash- please tell me I put it in the right dumpster! Swept the garden, scraped all the dropped figs of the ground- there were bucket loads. And buckets more appeared as soon as I had finished. Went to Castiglione del lago for gas and phone money. Worked on a web page.
Went to the piazza and struggled through a conversation with Simone at the bar to ask if there was music in town tonight- there wasn't -but no matter, but I understood what he said and tonight I go to Bertonni to see Celia.
But man was I tired- never underestimate how long chores can take- if you're not really sure what you're doing!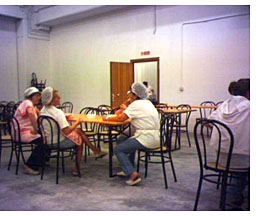 I was just heading over to Celia's to watch a folk music concert- which actually turned out to be a comedy play and town Cena! When I found a note on my door saying PAULETTE WAS IN TOWN!!!! YEAH!!!!!! The gray clouds don't matter- life is good I got another party buddy, and an arty, fun up for anything one at that! So I make my way down to her door- and ambush poor, fresh-from-San Francisco-via-a-week-in-Paris, Paulette into coming with to Celia's- and of course she was up for it. We went to a great Cena (town dinner of Pici and Duck) near Celia's and then headed home before it got to late, only to go back to Paulette's and stay up drinking wine and talking until 3.00! Excuse me- how did that happen?! (photo is the kitchen ladies in their official shower caps resting post cena . . .near Bertoni. By Paulette and her trusty Sidekick cell phone)
Then Friday was the day of reckoning- More tidying, more website, at 6.00 Paulette came over for some snacks and wine- and to send me on my way to Rome- alone- to pick up Daniel. OH MAN! Well the drive there was fine; I made it all the way, with surprisingly good radio, and little traffic. Daniel got it at 12.45 from London we were on our way back by 1.00- late but fine.
. . . And then our trip took a little detour! Well, y'know it is such an easy ride back from Rome, and it really is, especially in the daytime- but at night there are a lot of things you took for granted in the day.

Like it's only my 5th day driving in Italy. I'm driving a new car (see photos) that has loads of new dash instruments, a little distracting green light in the rear view mirror, a massive overhead skylight. Italian direction signs that look different at night. Loads of twists and turns, and an exit that goes straight! While the main road takes a jagged badly signed veer. Then when you take that exit, and realize it seconds too late, because its easy to see in the day, but invisible at night, you think you'll be able to just hop right back on…oh no! You drive 20 minutes until you see a hotel, run in and teach your boyfriend how to say- bona sera, parla inglese? Oh thank goodness the answer is yes! He tells us how to get back onto the main rd. where I see a sign for the airport and think ' forget it I'm starting over'! So back at Fiumicino we begin again. I tell Daniel to take a nap- and head out- and I feel relaxed, until I see my knuckles are white and my jaws clenched- ok relax girl, there is no traffic and its easy- stay focused- don't look at the clocks that say 3.30- eeek! But we make our way back and are home by 5.00 am. When Daniel suggests I open my birthday presents! Yeah! I feel my second wind! So we do that, and they are all great! Really lovely and I even got a jacket which I needed as it's a touch cold and rainy lately, but never mind that, because after all the excitement of the night before- we are ready for the Festa!!!